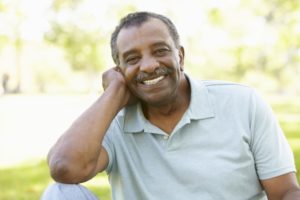 For over 100 years in North America, traditional dentures have been the standard for replacing a row or complete set of missing teeth. Consisting of porcelain prosthetics that rest atop a pink resin base that mimics the appearance of the gums, modern dentures have allowed patients to regain a measure of their original functionality. As a result of the advancements in dentistry, there now is an even better way to replace missing teeth: with dental implants in Massapequa. As you continue reading, you'll learn why this is the absolute best form of denture placement available!
The Limitations of Traditional Dentures
Because they only replace the teeth above the gums, dental adhesive and the natural suction created inside the mouth must be used to secure traditional dentures. Unfortunately, with this form of tooth replacement, the following challenges can arise:
Traditional dentures can be subject to sliding and completely dislodging from the mouth.
The movement that can occur can result in gum irritation and discomfort.
Because traditional dentures cover the palate, it's more difficult to taste food when wearing them.
Typically, traditional dentures only restore around 25% of the original chewing capacity.
The Advantages of Implant-Supported Dentures
The challenges highlighted above can all be prevented by receiving a set of implant-supported dentures. With the addition of dental implants, which are titanium posts that attach beneath the gum line and eventually fuse with the jawbone (called osseointegration), the benefits of denture placement can be maximized.
Following the placement of the dental implants, the bone fusion and adequate healing of the gums, titanium abutments (that act as anchors) will be added. Either by way of specially-designed bars or snaps, the dentures will be permanently secured.
Here are some of the perks you can expect from this procedure:
You can perform normal oral hygiene, which should include brushing and flossing at least two times a day.
Up to 95% of your original chewing capacity can be restored.
With proper care, dental implants can last up to a lifetime.
You'll have a natural-looking and appealing smile.
You won't have to worry about your dentures slipping or rubbing against your gums, or falling out your mouth.
Are You the Right Candidate for Implant-Supported Dentures?
Before any work commences, you'll first need to visit your dentist in Massapequa for a careful examination. He or she will assess your oral health and determine how much viable jawbone remains. Therefore, when the dental implants are placed, you can feel confident about the outcome.
To replace your missing teeth, restore your missing functionality and enjoy a normal life once again with the placement of implant-supported dentures, contact your local dentist to request a visit today!
About the Author
Dr. Dory Stutman earned his dental degree from the School of Graduate Dentistry at Case Western Reserve University. He has since gone on to provide top-notch care for nearly 30 years. To further expand his knowledge and hone his skills, he has taken hours of continuing education, which includes advanced training in dental implant placement and full-mouth reconstruction. Dr. Stutman restores smiles and lives by placing dental implants at The Luminous Smile, and he can be reached for more information through his website.