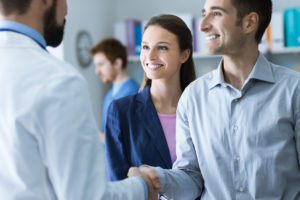 Each year, millions of Americans undergo dental implant treatment to restore missing teeth and boost their confidence and quality of life. However, not every dentist has the training and experience to provide start-to-finish implant treatment. Implants are a complex, long-lasting restorative treatment, so it is wise to do some research before diving in headfirst. If you are considering dental implants in Massapequa, here are the 4 key steps to choosing the best dentist for dental implants.
Step 1: Is Your Dentist Properly Licensed?
Before pursuing dental implant treatment with a dentist, be sure to do a little due diligence and confirm they are properly licensed. You can do this by calling or checking online with the state dental board. Not only do state dental boards oversee state licensing requirements, but they also track patient claims against dentists. You will want to check and make sure the dentist you are considering to restore your smile does not have any suspicious claims filed against them.
Step 2: Has Your Dentist Completed Implant-Specific Training?
Just like you would not want to take a ride in a semi-truck with a driver who has not completed their commercial driver's license (CDL) training, you should not hop into the chair of a dentist who lacks specific training and education on dental implants. Implants are a complex restorative treatment that requires additional training and education above and beyond the typical dental degree. Ask your dentist if they have completed over 300 hours of post-doctoral training related to the topic of dental implants.
Step 3: Does Your Dentist Have Adequate Experience?
Choosing a dentist with plenty of implant experience will help put you at ease during your own treatment. Because every person's set of teeth is different, there is no one-size-fits-all implant technique. An expert with at least two years of experience practicing implant dentistry is more likely to have handled a wide variety of complex implant cases. This experience will serve them well when restoring your unique smile.
Step 4: Does Your Dentist Use Advanced Technology?
Dental technology has made leaps and bounds over the past several decades, but not every practice is equipped with the latest advanced machinery. Here are just two examples of how technology can lead to a greater chance of implant success:
Microscope enhanced dentistry – Enables dentists to catch problems that are too tiny to be detected by any other means and allows for greater precision during restorative dental procedures.
Cone Beam Scanner – Creates 3D images of a patient's teeth, jaw and surrounding structures that a dentist can use to plan dental implant placements. Highly-detailed scans help dentists to perform implant surgery in the least invasive way possible.
Dental implants can last for decades – or even a lifetime – so it only makes sense to take some time to find the right implant specialist for you. Follow the 4 steps above to guide your search and achieve the results you desire.
About the Author
Massapequa Park residents have turned to Dr. Dory Stutman and the team at South Shore Dental Care to repair their smiles since 1995. Each year, Dr. Stutman attends more than 100 hours of advanced dentistry seminars, including seminars on dental implants. For more information on implants and other restorative treatments, visit the South Shore Dental Care website or call 516-798-3808.