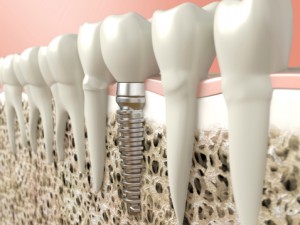 You may be worried that your dental implants won't look or feel like a regular tooth. Instead of the natural root, it is being replaced with a titanium post that mimics it, and the restoration, although completely blended into your smile, will not have nerves like a traditional tooth. Just because the parts of an implant don't match the makeup of your pearly whites doesn't mean your smile won't look, feel, and function like it did before. Take some time to learn more about the functionality of dental implants in Massapequa and how they will positively impact your smile and its capabilities.
The Functionality of Dental Implants
Missing teeth can do more than just make you feel embarrassed about your smile and facial appearance. They can also make it more difficult to do some of the simpler things in life such as eat, chew, and speak. These different types of functionality are what your dentist looks to restore when placing dental implants.
The dental implant is comprised of three parts: a titanium post that is surgically placed into the jawbone, the abutment that sits on top of the implant, and the customized restoration, which is attached to the abutment, so the three parts can fully function together.
Although there are no nerves or natural tooth roots, you can expect your dental implants to look, feel, and work just like any other tooth in your mouth. Eating, chewing, speaking, and even cleaning your teeth will not change by having these tooth replacement solutions. You might experience a slight adjustment period simply because it is a new fixture in your mouth.
How Similar is the Functionality to a Natural Tooth?
Two words: Extraordinarily close. Yes, they don't have nerves or a natural root, and they cannot decay, but implants are designed to withstand the normal wear and tear we put on our teeth each day. That's not to say that if you are prone to teeth grinding that you should expect your implant to hold up well. No, in fact, you will need to seek treatment as soon as possible for a nightguard to help with grinding.
It helps that a dental implant works very much in the same way as a natural tooth. The implant itself works to stimulate the jawbone, allowing it to stay strong and serve as a viable foundation for the implant and restoration. This is crucial, as the jawbone's strength determines how your face can change, as well as if your oral health is improving or declining. A weakened bone can result in:
Changing facial appearance (i.e. facial sagging or collapse)
Shifting teeth
Misaligned bite
Bone loss
Additional tooth loss
A dental implant can last decades if not a lifetime with proper care and maintenance, but once it is in place, you will begin to quickly notice an improvement in your chewing efficiencies, as well as your ability to speak more clearly.
Missing teeth can strip these normal daily activities from you, but it doesn't have to stay that way. Talk to your dentist in Massapequa about the possibility of having dental implants placed. Learn how you can improve your appearance, increase your confidence, and achieve greater stability and functionality with a brand new smile.
About the Author
Dr. Dory Stutman graduated with his dental degree from the School of Graduate Dentistry at Case Western Reserve University. Completing his general practice residency at MetroHealth Medical Center in Cleveland, Ohio, he also finished a postgraduate program in esthetic dentistry at the University of Buffalo. Attending more than 100 hours of advanced dentistry seminars each year, he has focused his interests on cosmetic dentistry, dental implants, and full-mouth reconstruction. To learn how we can help you achieve your desired smile, contact us at (516) 798-3808.