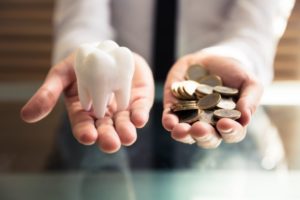 When was the last time you took a bite into a big juicy steak? How about the last time you munched on some delicious crunchy chips? If you're missing one of more teeth, the answer is probably "too long ago." You've been interested in solving this problem with dental implants, but you've heard that they're very expensive. You're right, but they are well-worth the cost to have your life back after tooth loss. Let's talk more about how dental implants in Massapequa are worth the investment.
What Are Dental Implants?
A dental implant is a metal post that is inserted directly into the jawbone through surgery. The post is made of titanium, so the body will not reject it. In fact, over a period of three to six months, the implant will actually fuse with the jawbone so it will basically become a part of you. Once this healing process is complete, your dentist will attach another metal post called an abutment to the top of your implant. This will allow him or her to place a crown, or an artificial tooth, meaning your implant will now look, feel, and function just like a natural tooth.
How Much Do Dental Implants Cost?
Implants are unfortunately one of the most expensive dental procedures. Insurance typically covers little or none of the cost. However, each plan is different, so be sure to ask your insurance company about coverage. Remember, implants are a huge investment in your health, so spending money on them is definitely worth it.
Are Dental Implants Worth the Investment?
Compared to other tooth replacement methods like dentures and bridges, implants cost a lot more up front. However, implants are designed to last for several decades, even the rest of your life. Bridges and dentures need to be replaced every few years, which can quickly rack up costs. Although you might pay more at first for implants, you will end up saving more money down the road.
Dental implants restore not only your missing teeth, but your oral health too. When you lose a tooth, the jawbone is no longer stimulated by the tooth root through chewing. The bone then begins to shrink from disuse, making that part of your face sag. By investing in your mouth with dental implants, you can keep looking young for much, much longer.
Although dental implants might cost a lot, having a healthy, beautiful smile is truly priceless. If you are interested in getting your smile and your life back, see your dentist in Massapequa today.
About the Practice
At South Shore Dental Care in Massapequa Park, NY, husband-and-wife team Drs. Dory and Khalida Stutman bring their knowledge and skills in providing dental implants to you. Dr. Dory has also achieved Fellowship status with the Academy of General Dentistry. To learn more about replacing your missing teeth with implants, visit their website or call them at (516)-798-3808.