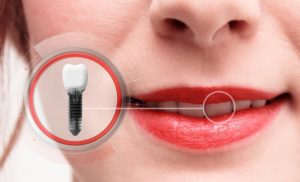 Once you lose a tooth for whatever reason, your dentist may recommend getting dental implants in Massapequa. If you're hearing about the procedure for the first time, you might have misgivings. After all, doesn't a metal post in your jaw sound uncomfortable? Fortunately, there's no reason to be nervous. Here's what you need to know about dental implants and how they'll feel in your mouth.
What is a Dental Implant?
A dental implant serves as the "root" for a prosthetic tooth or teeth, such as single crowns, dental bridges, or dentures. Surgery is used to place a small metal post into the jaw, where over time it will naturally fuse with the bone due to a natural process known as osseointegration.
Is There Any Discomfort When Getting Dental Implants?
Anesthesia is used to keep patients as comfortable as possible during surgery. Some practices offer IV sedation for patients with particularly high levels of dental anxiety.
After the surgical step is complete, you may experience some pain and discomfort, but this will fade over time and can be controlled with ibuprofen and other medications. Bleeding within the first 24 hours is normal; you'll need to bite down on a gauze pack until it stops. (You'll need to replace the gauze pack every hour if the bleeding hasn't stopped by then.) Some swelling might occur for a couple of days as well, but you can keep it down with ice packs. Your dentist in Massapequa can give you other care instructions.
How Will My Dental Implant Feel Once It's Healed?
Having an implant might feel strange at first, especially while eating; however, you'll adjust to the feeling over time. Many patients have stated that once they got used to them, their implants felt a lot like their natural teeth. Some people have concerns about tasting the metal in implants, but since the post is below the gumline, this isn't an issue.
Will My Dental Implant Look Natural?
Because the metal is below the gumline and is topped with a prosthetic that's custom-designed to blend in with the natural teeth, casual observers won't be able to tell the difference. The result is a smile that looks and feels natural while restoring functionality to the mouth. Additionally, implants prevent bone loss by stimulating the jaw, allowing you to maintain your facial structure and retain a more youthful look.
Speak with your dentist about options for tooth replacement; each patient is going to have different needs, and preexisting conditions such as advanced bone loss can affect the chances of a successful implant. If you do get implants, try to find a practice that can manage the entire process, including extraction, placement and restoration; it will all go much smoother with a professional who's been with you the entire way!
About the Practice
At South Shore Dental Care, Drs. Dory Stutman and Khalida Stutman are a husband-and-wife team that employs their combined knowledge to help patients from across New York, Long Island, and Nassau County. They offer dental implants as a solution for missing teeth. To schedule an appointment, visit their website or call (516) 798-3808.