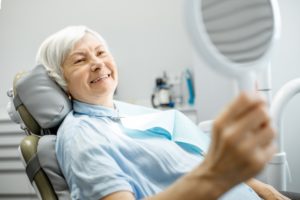 Your dad has been smiling a lot less recently, and it's not hard to understand why; there's a gap where he had to get a tooth removed. The dentist recommended a dental implant to replace it, but your dad isn't convinced; won't a false tooth stand out just as much as empty space? Not necessarily! Here's what you need to know about dental implants in Massapequa and how they can help create a great-looking grin.
How Does a Dental Implant Replace a Lost Tooth?
An implant is a titanium post surgically inserted into the jaw. It's topped with an abutment that connects to a crown. The crown is the actual replacement tooth, with the implant serving as its "roots."
Thanks to a natural process called osseointegration, the implant is fused with the jawbone. This provides greater stability and chewing power almost on par with natural teeth.
Will People Be Able to Tell I Have a Dental Implant?
The actual implant is below the gumline, so it won't be visible to the casual observer. The only visible part will be the crown, which is custom-made to fit in with the shape and color of the surrounding teeth; as a result, it creates a natural look in the mouth. You'll be able to smile with confidence without worrying about people noticing that you've had dental work done.
Implants can also help enhance your appearance by preventing bone loss. The jaw is kept strong through stimulation received during chewing; when a tooth is missing, this stimulation is lost and the bone starts to deteriorate. Osseointegration with an implant allows the jaw to continue benfeitting from chewing, which helps maintain the shape of your face and keeps you looking younger for a longer period of time.
What Other Benefits Do Dental Implants Have?
In addition to creating a healthy-looking smile, and greater bone health, implants have other benefits compared with other tooth-replacement options:
Unlike traditional dental bridges, dental implants don't involve making any changes to adjacent teeth and don't affect your ability to brush them, thus making it easier to maintain oral health.
Implants are fixed in place and are not prone to slipping or coming loose, which are problems usually associated with dentures.
Implants are very durable and can potentially last a lifetime if good oral care is maintained.
Bridges and dentures can be supported by implants in order to enjoy the health benefits and improved chewing power.
Not everyone is a candidate for implants; for example, if there's already been too much bone loss in the jaw, osseointegration won't take place properly and the implant will fail. Speak with your dentist in Massapequa about the state of your health and explore the various options available.
About the Practice
At South Shore Dental Care, the husband-and-wife team of Drs. Dory Stutman and Khalida Stutman have been serving Massapequa families since 1997. They offer several restorative dentistry options for patients with missing teeth, with dental implants being available in many cases. To schedule an appointment, visit their website or call (516) 798-3808.