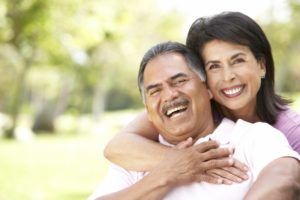 You're sick of suffering from missing teeth and have finally decided to invest in your oral health by getting dental implants in Massapequa. After years of experiencing discomfort chewing and speaking, you're ready to tackle the healing period after dental implants because you know the benefits will be worth it. Like other people though, you're curious how long getting dental implants takes and can't wait to start enjoying them. Read on to learn about the healing time for each step of the process and factors that can affect it.
Do You Need a Bone Graft?
In order to be a candidate for dental implants, you may need to have a bone graft to improve your jawbone density to hold the dental implants. Bone loss could be caused by having gum disease, or if you've waited too long to replace your missing teeth or tooth. If you need this done before your dental implants can be placed, it may take an additional 3 to 4 months of healing time depending on how much bone structure was replaced.
Osseointegration and Implant Placement
Once your dentist has determined your jawbone density is good and you've healed from any preparatory treatments, they will schedule the first part of your procedure. During this stage, they will surgically place the implants into your jawbone. It takes about an hour for a single implant to be inserted. Once they've been placed, it will take about 4 to 6 months for your gums to heal and the bone to fuse around them. This process is vital to the success of your dental implants and is what makes getting the procedure so beneficial for your oral health.
Placing the Abutment and Restorations
Once the process of osseointegration (the implants fusing with your jawbone) is complete, your dentist in Massapequa will begin the last stage of your dental implant procedure. They'll connect the abutment to the top of your implant which will allow them to attach your restoration. It will typically take a few weeks for your gums to heal after this step.
While they're healing, your dentist will be having your new restorations crafted at a dental lab. They'll use impressions of your mouth to create dental crowns, bridges, or dentures. After they're made, your dentist will connect them to the abutments to complete your new fully functioning smile.
It's important to remember that there are many factors that go into how long it takes for your dental implants to heal. While this process seems like it takes a long time, it's only a drop in the bucket compared to the discomfort of dealing with missing teeth. For your new implants to look and function similarly to your natural teeth, it's important to allow healing time and remain healthy throughout the process. Trust that the procedure is well worth the wait!
About the Author
Dr. Dory Stutman opened the doors of The Luminous Smile at South Shore Dental Care in 1995. He has attended multiple specialized courses and residencies for implant dentistry, bone grafting, and implant surgery. He has also completed training for Dental Implant Placement and Advanced Implant Site Development at the Cadaver Training Lab as well as Perio-Surgical Skills for the General Practitioner at the Perio Institute in New York. If you're looking to get dental implants, Dr. Stutman will make you comfortable with his expertise and knowledge. For any questions or to schedule an appointment, visit his website or contact 516-804-5081.