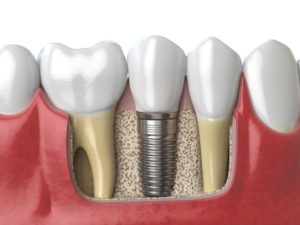 If you're looking to replace a missing tooth with a solution that provides a natural appearance, look no further than dental implants in Massapequa. Considered to be the latest, most permanent tooth option available, you will not only receive a durable, long-lasting tooth replacement, but you'll never have to worry about anyone being able to tell the difference between your natural teeth and your artificial one! Find out more about this amazing solution, and learn how Dr. Dory Stutman at South Shore Dental Care can give you the smile of your dreams.
What are Dental Implants?
When it comes to effectively replacing a missing tooth, there's really only one option. Yes, you can receive a bridge, dental crown or dentures to restore your smile's appearance, but none of these offer a solution to replace your tooth's root. That's where dental implants come in.
These titanium posts are surgically implanted into your jawbone and act as the root of your tooth. This gives your bone the stimulation it needs to stay strong. Over the course of several months, the implant will fuse to the bone. Once Dr. Stutman is satisfied with your healing process, you'll receive a customized crown that will sit on top of the implant, blending beautifully with the rest of your smile.
What is the Process for Receiving a Dental Implant?
When talking to your dentist in Massapequa about dental implants, he will want to examine your smile to determine the best treatment plan. Using a cone beam scanner, he can take x-rays in seconds and receive detailed, three-dimensional images. By being able to view what lies below your gum line, especially your bone structure, he will use a computer-guided plan to streamline the process for dental implant placement.
Once you and Dr. Stutman are pleased with the treatment plan, he can begin to place your implants. Administering anesthesia to ensure you are comfortable, he uses a microscope to look at the area closely so that he does not affect the healthy tissue any more than necessary. Using a microsurgical technique, he will make a small incision in the gum line and place the implant into the jawbone.
During the next several months, the implant will fuse to the bone, ensuring it is stable and secure. Once you return for your final visit, he'll place a custom crown that matches the color, size, and shape of your natural teeth. This will give you the complete, fully restored smile you want and deserve.
What Are the Benefits of Dental Implants?
When it comes to a permanent tooth replacement solution, there are a wide array of benefits associated with dental implants. Some of these include:
Long-Lasting: As long as they are properly cared for and maintained, dental implants can last decades or a lifetime.
Durable: They're made to withstand the normal wear and tear we put on our teeth, so don't worry about it accidentally falling out.
Low maintenance: The only thing you need to do to ensure your dental implant stays healthy is to continue brushing your teeth twice a day for two minutes, floss at least once a day, and rinse with an antiseptic mouthwash. You'll also want to keep your regular dental appointments so Dr. Stutman can examine your implant to make sure everything is holding up as it should.
Unnoticeable: Because the implant exists below the gum line, no one will ever know you have it. Also, the crown will be matched to the rest of your smile, so at no point will anyone be able to tell a difference between your natural teeth and your artificial one.
Don't let a missing tooth keep you from the smile you deserve. Let a dental professional like Dr. Stutman give you back your smile with dental implants.
About the Author
Dr. Dory Stutman graduated with his dental degree from the School of Graduate Dentistry at Case Western Reserve University. Completing his general practice residency at MetroHealth Medical Center in Cleveland, Ohio, he also finished a postgraduate program in esthetic dentistry at the University of Buffalo. He To learn how we can help you achieve your desired smile, contact us at (516) 798-3808.