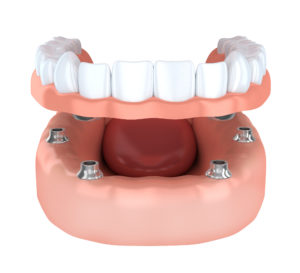 When families invest in a new car or SUV, they often take special care to help ensure their new ride will last for many years to come. Small but important things like buying the recommended quality of gas, putting air in the tires, and topping up the oil can help boost a car's lifespan.
Just like buying a new family car, choosing to get a dental implant or implant-retained dentures is an investment in your oral health and overall quality of life – and like any investment, you should take measures to protect your new smile. Want some advice? Here is a handy how-to guide to caring for dental implants in Massapequa.
 Why You Should See the Dentist Regularly
The American Dental Association recommends adult men and women see a dentist every six months for a routine exam and professional cleaning. A biannual checkup is especially important after you have undergone dental implant surgery, as is it an opportunity for your dentist to:
Examine your implant-retained denture to ensure it is not loose
Confirm that all parts of the implant are functioning properly
Review X-rays of your implant-retained denture and natural teeth
Examine your bite
Measure the gums surrounding your implant to check if they are healthy
How to Brush Properly
While visiting a dentist in Massapequa every six months is an important step to prevent infections, practicing excellent oral hygiene at home is also critical to keeping your new implant-retained denture in good shape.
Cleaning an implant-retained denture is very similar to caring for your remaining natural teeth, which means you should:
Brush twice a day for two full minutes each time
Use a soft-bristled toothbrush to clean your teeth
Hold your toothbrush at a 45-degree angle and use short, circular strokes
Brush the outer, inner and chewing surfaces of our teeth and implant-retained denture
Floss at least once a day
Why You Should Kick the Tobacco Habit
Finally, to properly care for your new implant-retained denture, you should just say "no" to tobacco. Smoking or chewing tobacco can seriously risk the health of your dental implant – and can even lead to implant failure.
Successful dental implants rely on a process called osseointegration, in which the titanium implant fuses with the jawbone over time. However, the nicotine in tobacco reduces blood flow, which can make it more difficult for your body to heal after surgery and prevent osseointegration from taking place.
By obstructing successful fusion between a dental implant and the jawbone, tobacco use can ultimately result in implant failure and extraction.
However, with a 98% success rate, dental implants and implant-retained dentures can be a long-lasting solution to replacing missing teeth. By regularly visiting the dentist, practicing proper oral hygiene, and staying away from tobacco, you can preserve your new smile for many years to come!
About the Practice
Since 1995, patients in Massapequa Park and surrounding areas have turned to the expert team at South Shore Dental Care for all their dental care needs. Dr. Dory Stutman and Dr. Khalida Stutman provide a full range of dental care services, including dental implants. For more information about restorative dentistry treatments, visit the South Shore Dental Care website or call 516-798-3808.