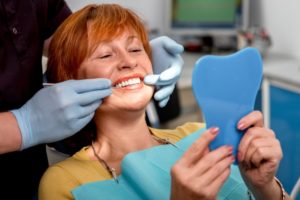 As you grow older, your hair, eyesight, and skin aren't the only things that change. Your oral health goes through a lot of changes, too! You may be taking care of your skin with anti-aging creams, or your gray hair with a few visits to the salon, but are you caring for your teeth as they change over time? If you're unsure of the symptoms you should look for that may indicate oral health problems, a family dentist in Massapequa can provide some valuable insight.

How Does My Oral Health Change As I Age?
Whether it is talking, biting or chewing, your teeth will begin to wear down over time. Unfortunately, developing health conditions and natural changes in your mouth can lead to dental problems if not properly treated as well.
As you age, your habits and overall health can put you at risk for:
Tooth and root decay
Cavities
Gum disease
Sensitive teeth
While not all adults experience chronic health problems as they age, for those who do, the side effects of various medications (dry mouth, inflammation, or abnormal bleeding) can cause oral health problems ranging from minor to severe.
What Should I Look For if I Begin to Experience Problems?
It is always good to be proactive about your oral health, which is why you should maintain good dental habits throughout your life. If it is important for you to take care of your body, make sure you take the same level of care for your teeth and gums. However, if you do begin to experience dental problems, there are a few symptoms your dentist in Massapequa says to look for:
Dry Mouth: A common side effect of medication, it can cause cavities and/or tooth decay because of the lack of saliva needed to wash away food debris and prevent plaque buildup. Make sure you're staying hydrated throughout the day, and talk to your doctor about medications you're taking that can cause dry mouth.
Swollen, red gums: A lack of oral hygiene and poor dental habits throughout the years can cause gum disease. If you are not brushing and/or flossing regularly, bacteria can build along the gum line, leading to gingivitis or worse, periodontitis.
Tooth pain: If you're feeling pain in your teeth when drinking a cold beverage or enjoying an ice cream cone, it may be because of worn tooth enamel or a chipped or cracked tooth that causes tooth sensitivity.
Your regular dental checkups do not stop just because you hit a certain age. It is important to keep your scheduled cleaning appointments with your dentist to make sure you are not experiencing any problems or issues with your oral health. While you can't stop the aging process, you can ensure your mouth, teeth, and gums remain healthy and strong as you grow older.
About the Author
Dr. Khalida Stutuman has been in practice since 1992. After earning her dental degree from Case Western Reserve University School of Graduate Dentistry, she attended the BU Goldman School of Graduate Dentistry for advanced education in general dentistry. For questions about our office or services, contact us by calling (516) 798-3808.