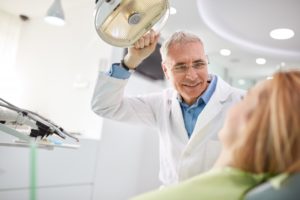 It is time for your six-month checkup, and you know you haven't been flossing as you should. After brushing your teeth, you quickly grab the floss that's been sitting in your drawer for months, untouched, and run it through your teeth. Maybe the dentist won't notice? Yeah, right! Truth is, we are all guilty of not wanting to divulge our shortcomings, but when it comes to your oral health, it's important to be honest and open with your family dentist in Massapequa. But if you think you can outsmart the pros, here are 5 things your dentist can spot the minute they look in your mouth.
1. Whether You Floss or Not:
The minute you open your mouth, those pearly or not-so-pearly whites won't be the only thing the dentist sees. If your gums appear red, puffy, and irritated, he or she will know immediately if you've been flossing. That quick, morning-of dentist appointment flossing won't work. Trust us. It never works.
2. Why Are You Nervous? The Sign of a Nail Biter:
Keeping your hands in your pockets won't keep this bad habit from coming to light. If your front teeth appear uneven, or if the enamel looks to be chipped or cracked, your dentist will know you're a nail biter.
3. Bun in the Oven? You're Pregnant:
Hopefully, by the time you visit your dentist for your regular teeth cleaning, you have already received the news about your new bundle of joy. If not, your dentist may just be able to tell. Pregnant women are often prone to experiencing mild forms of gum disease or gingivitis, which cause the gums to swell, bleed, and become red. This is because women tend to produce progesterone while pregnant, which can cause bacteria buildup along the gum line.
4. What's That on Your Lip? A Sign of Vitamin Deficiency:
Your dentist will notice if you have a vitamin deficiency by a few signs. These can include canker sores appearing in the corners of your mouth or changes in your tongue such as paleness.
5. Toothache? It May Be a Sinus Infection:
Toothache, gum disease, tooth decay in the back molars, and even abscesses of the teeth and gums are all ways your dentist can determine if you have a sinus infection. The roots of your top teeth sit very close to the maxillary sinuses, which are located above the upper jaw, and are most affected by sinus issues. Think you have a toothache? Your dentist may suggest you bend over to touch your toes. If the pressure increases in your mouth, it is definitely a sinus infection and not a toothache.
If you think you can trick your dentist in Massapequa, guess again! Your dentist is able to spot more than just cavities, so this is an even better reason to not miss out on your routine appointments.
About the Author
Don't travel to multiple dental offices when you can just visit South Shore Dental Care! We offer orthodontic treatment, cosmetic dentistry, and dental implants under one roof! Dr. Khalida Stutuman has been in practice since 1992. After earning her dental degree from Case Western Reserve University School of Graduate Dentistry, she attended the BU Goldman School of Graduate Dentistry for advanced education in general dentistry. For questions about our office or services, contact us by calling (516) 798-3808.