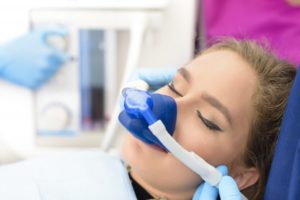 For over 30 million Americans, dental anxiety or phobia is a condition they currently battle with. Unfortunately, this prevents many of them from receiving the dental care they need. Instead of expecting patients to just deal with the problem, the field of dentistry has responded with effective methods of calming their worries through sedation dentistry in Massapequa. Learn about three types of treatment provided to help you enjoy a relaxed dental visit.
Nitrous Oxide
Because anxiety levels about receiving dental care can vary, there are different types of sedation dentistry available. For milder cases of uneasiness, your dentist may offer nitrous oxide (also called laughing gas). The medication is delivered through a mask that covers your nose and is worn throughout the treatment process, which allows you to experience a slightly euphoric state.
Here are two key benefits of treatment with nitrous oxide:
Your dentist can adjust the medication as needed throughout the treatment process.
Soon after the medication has been discontinued, you'll be fully cognizant and ready to carry out your normal duties.
Oral Sedation
For more acute cases of anxiety or phobia, your dentist may recommend oral sedation, which is delivered in pill form. It can either be taken the night before or a few hours prior to receiving care to help you relax. Thus, by the time your appointment starts, you can won't have any worries.
To provide the level of comfort needed, your dentist can adjust the dosage, which will also determine your level of consciousness throughout the procedure. You'll need to have someone available to drive you after the procedure is done, though, because the effects of the medication can take hours to wear-off.
IV Sedation
For the most extreme cases of phobia, there is IV sedation that is administered by a board-certified anesthesiologist. Because the sedative enters your bloodstream rapidly, the effects are almost instantaneous, providing you with a smooth and carefree treatment process.
Whatever your specific needs are, your dentist will tailor the care to suit them. And you can feel assured that the form of sedation dentistry administered will be safe and effective.
Modern Dentistry and Old-Fashioned Care
The perfect combination of the latest in dental technology, the safest and most effective medications and a dentist who provides compassionate treatment, spells a comfortable dental care experience. Therefore, you can enjoy the advantages of visiting your Massapequa dentist on a regular basis!
About the Author
Dr. Dory Stutman earned his dental degree from the School of Graduate Dentistry at Case Western Reserve University, and he then went on to complete his general practice residency at MetroHealth Medical Center in Cleveland, OH. For nearly 30 years, he has gone on to provide the best in oral care, yet he remains eager to learn more. Thus, he has taken hours of continuing education, which includes Oral Conscious Sedation Training at NYU. Dr. Stutman practices at South Shore Dental Care, and he can be reached for more information through his website.