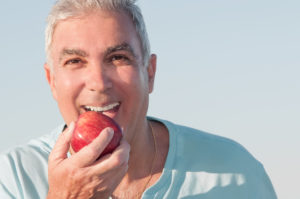 When you've been missing teeth for any amount of time, it's a hassle. It forces you to give up simple things like eating your favorite foods and smiling for photos. Thankfully, dental implants in Massapequa offer the best way to be fully restored. Once their put in place, though, there are factors that can contribute to them failing. As you read on, you'll learn about the warning signs that your implant has been compromised.
How is the Dental Implant Held in Place?
Let's start our discussion by looking at how the dental implant is secured. The titanium posts are inserted into the underlying jawbone and eventually fuse with the existing bone through a process called osseointegration. A fixture (crown, bridge or implant-retained denture) is later attached to complete the full restoration.
Signs of Failure
Once the implant seats properly, it can still be dislodged – usually through improper care or other bad habits. Here are some of the signs to look for that your implant is failing:
Excessive bleeding around the implant for at least three days
The Implant feels loose and is moving
There has been swelling and inflammation that has lasted for more than a week
Discharge or pus around the implant
If you notice any of the above symptoms, you should immediately reach out to your local dentist. The more proactive you are about seeking help, the less problematic the situation will be and the better your chances are of saving your implant.
Contributors to Implant Failure
Here are some of the prime contributors to implant failure:
Tobacco Use – The toxins released from smoking and chewing tobacco produce a condition called dry socket that makes the implant more likely to unseat.
Teeth Grinding (Bruxism) – Excessive grinding of the teeth adds more pressure to your implant, wears down the fixture and can cause the post to unseat.
Eating the Wrong Things – Your teeth are only made to consume certain things. The same rules associated with normal eating habits still apply with your dental implants. Thus, you should avoid chewing ice, biting nails and using your mouth as a tool to open packages.
By placing a greater emphasis on your oral health, you have a better chance of enjoying a lasting dental implant. Thus, you should be sure to brush and floss your teeth at least two times a day as you would normally and visit your dentist in Massapequa every six months for preventive care. Along with a thorough cleaning and checkup, these appointments allow your local professional to examine the condition of your implant.
If you have questions about the dental implant process, reach out to your restoration expert to schedule a consultation today.
About the Author
Dr. Dory Stutman earned his dental degree from the School of Dental Medicine at Case Western Reserve University. Although he has nearly 30 years of experience as a dentist, he still takes continuing education hours annually to stay abreast of the latest changes and advancements in techniques in the world of dentistry. Dr. Stutman helps patients regain the lives they once knew with dental implants at South Shore Dental Care and can be reached for more information through his website.