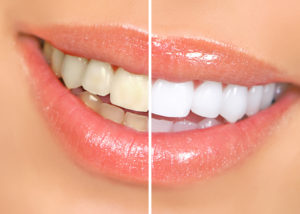 Studies show that when you meet new people, a third of them will notice the condition of your teeth before anything else. So if you have stains or discoloration, that could cause a person to form a negative opinion of you quickly, which can take a toll on your confidence level. A way to address this problem is with Zoom! Teeth Whitening from your cosmetic dentist in Massapequa. After the treatment is done, though, how should you care for your newly white, gleaming teeth.
How Does Zoom! Teeth Whitening Work?
The Zoom! method revitalizes your smile using high-powered bleaches that lift the stains from the surface of your teeth. It also prevents the yellowish color that comes from the enamel wearing down and dentin showing through.
Patients are able to see very noticeable results fast – in some cases up to eight shades. For the amazing new look to last, though, requires the right type of care.
How to Maintain Your Results
Here are some tips that will help in your quest to maintain your beautiful new smile:
Avoid foods and beverages with tannin – These are natural staining agents found in tomato sauce, dark berries, coffee, tea, wine and other consumables.
Say 'no' to tobacco – Whether you chew or smoke tobacco, it wreaks havoc on your teeth. The toxins and chemicals released can leave hideous stains and cause discoloration.
Practice excellent oral hygiene – Brushing and flossing your teeth will help to keep them healthy and will remove the harmful agents that contribute to staining.
Visiting your dentist – When you visit your dentist semi-annually, it's an opportunity to have your teeth thoroughly cleaned. Additionally, your cosmetic dentist can perform touchups to fortify the results of your teeth whitening.
A More Confident Life
Does having more confidence matter to you? If so, then having beautifully white teeth will take yours to higher heights. No longer will you have to shy away from photos and worry about being prejudged about the condition of your smile.
By having your teeth whitened using the Zoom! method, you can rest assured that you'll get the results you want in a safe and effective way.
The process starts by reaching out to your dentist in Massapequa to schedule a consultation. While there, you'll learn more about the process and other tips to help preserve your rejuvenated smile after the procedure is done. A beautiful new set of teeth await you!
About the Author
A specialist in both cosmetic and restorative dentistry, Dr. Dory Stutman has nearly three decades of experience providing patients with beautiful smiles. Since graduating from the School of Graduate Dentistry at Case Western Reserve University, he has taken a methodical approach to ensure that his patients receive top-notch treatment. Dr. Stutman makes teeth gleam with new life at South Shore Dental Care and can be reached for more information through his website.