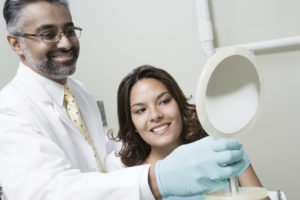 Whether you are self-conscious from crowded or crooked teeth or from stains caused by years of drinking coffee, minor flaws in a smile can negatively affect your self-confidence and daily quality of life. Indeed, according to research commissioned by the American Association of Orthodontists, 36 percent of Americans who are unhappy with their teeth believe they would have a better social life if they had better teeth. Fortunately, there is a range of cosmetic dentistry treatment options available today that can give you the flawless smile you have always wanted. Read on to hear from your cosmetic dentist in Massapequa on which option is right for you.
Brighten Your Smile with Professional Teeth Whitening
Even if you practice good oral hygiene and brush your teeth twice a day, it is natural for your smile to lose its sparkle as you grow older. Professional teeth whitening can transform dingy teeth into a bright smile that you will be eager to show off.
The treatment works by applying a whitening solution to the surface of your teeth and activating it using a UV light. The process is completed after just three 15-minute intervals under the light and can make your teeth look up to 8 shades whiter!
For patients who wish to whiten their smiles more gradually, at-home whitening treatment provides a solution. Your dentist will provide you a set of customized mouth trays and powerful whitening gel, as well as easy-to-follow instructions. Simply wear the custom-fit trays filled with the bleaching gels for an hour and a half each evening, while you're relaxing after dinner or watching an episode of your favorite TV show. In about two weeks the treatment will be complete, and your smile will be brighter than ever!
Don't Want Metal in Your Mouth? Try Invisalign
Many adults with crowded, crooked or spaced out teeth want to correct their smile but don't want to deal with the unsightly wires and metal brackets that come with traditional braces. Thankfully, Invisalign offers a modern alternative that will transform your smile with minimal aesthetic cost.
Invisalign clear orthodontics use custom-made sets of clear aligners to gradually move your teeth into the desired positions. Each aligner is intended to help you at a specific moment in your treatment and is normally worn for about two weeks before being switched out for the next aligner set.
In addition to being attractive for individuals who want a barely visible treatment option, other benefits of Invisalign include:
Removable – Traditional braces made of metal brackets and wires can often trap tiny pieces of food and cannot be removed until treatment is complete – often two or more years later. With Invisalign, you can easily remove the aligners to eat, brush and floss like normal.
Comfortable – Invisalign aligners are custom-made from detailed impressions of your mouth so they fit comfortably on your teeth. Compared to traditional metal braces that can cause irritation to the inside of your mouth, Invisalign is made of smooth plastic that reduces the likelihood of discomfort.
Quick – The average custom-made Invisalign treatment plan is completed in an average time of just one year, a full year less than traditional braces often require.
How Porcelain Veneers Can Transform Your Smile
If you are looking for a more immediate treatment to fill gaps in your smile or hide stained or misshapen teeth, porcelain veneers can help provide a long-lasting smile makeover.
Veneers are thin porcelain shells that are custom-designed to fit on top of your teeth. They are resistant to stains from coffee, tea, wine or even cigarette smoke, and have a translucent appearance that makes them nearly impossible to tell apart from natural teeth.
With an average lifespan of 10 to 15 years, porcelain veneers are an ideal long-term solution to hiding misshapen or stained teeth, or even recreating an entire smile!
You deserve to have the bright, radiant smile of your dreams. To discuss these and other cosmetic dentistry treatment options, contact your dentist in Massapequa today.
About South Shore Dental Care
South Shore Dental Care is a boutique dental practice that provides patients with everything from cosmetic dentistry procedures and dental implants to orthodontic treatment all in one place. Led by the dynamic husband and wife team of Drs. Dory and Khalida Stutman, patients from Long Island, Merrick, Bellmore, and Wantagh rely on South Shore Dental Care for a wide array of dental care services that help them achieve superior oral health and beautiful, confident smiles. Want to see proof? Take a look at the before and after photos in the Smile Gallery to see some truly dazzling smiles. For more information, please visit their website online or call the office at +1 516-798-3808.