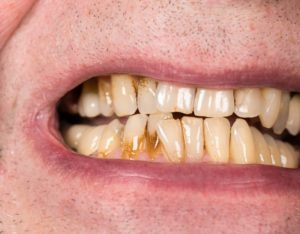 Are you being judged by your smile? Recent studies show that you are. One found that of the new people you meet, one-third will notice the condition of your teeth before anything else. In another study, it was found that nearly 75 percent of people are more likely to trust a person with a pleasing smile than those with a powerful job or even a nice vehicle. Thus, to be as successful as you'd like, it's a must to have a stain-free smile. Part of the route to achieving that is to be aware of what stains your teeth so that you can avoid it. Read on to learn about the top offenders and how to stop them from damaging your smile.
The Top Contributors to Teeth Staining
The quest for a whiter and brighter smile starts by identifying the habits that can contribute to staining. They include:
Using Tobacco – Not only is tobacco use detrimental to your health, it also takes a toll on the appearance of your teeth. The tars and other toxic chemicals gradually collect on your teeth and become stubborn stains that can only be addressed by visiting your dentist.
Eating and Drinking Tannins – Foods and beverages that contain tannins – naturally occurring coloring agents – will stain your teeth as well. Some common sources of tannins are tomato sauce, curry, coffee, tea and others.
Poor Oral Hygiene – Failing to practice proper oral hygiene will leave you more susceptible to staining. When you brush and floss, you are removing leftover food debris and bacteria that would eventually contribute to teeth stains.
Tooth Decay – Failing to keep your mouth, teeth and gums clean will also contribute to tooth decay. Over time, harmful agents settle on the enamel – the tough outer surface of your teeth and penetrate to the dentin. If not addressed, signs of decay will be visible.
Thankfully, you're not a helpless bystander who has to watch the demise of your teeth's appearance. There are some things you can do to protect your smile.
How to Prevent Teeth Staining
The best way to prevent teeth staining is to look at the above list and address each situation. That means you should refrain from tobacco usage, decrease the amount of highly pigmented foods and drinks you consume and practice better oral hygiene.
Work with What You Have
You can also keep some mouthwash with you at all times. Thus, if you're out with family or friends and aren't in a position to brush and floss your teeth following a meal, you can at least rinse your mouth to prevent any stains from settling in. Once you arrive home, you can then brush and floss your teeth as normal, but by rinsing the staining agents will not have had a chance to damage the look of your teeth.
Having a beautiful smile is priceless. Now you have some tips for how to maintain yours. If you have other questions or would like to improve the aesthetics of your teeth, reach out to your dentist in Massapequa to schedule a consultation today!
About the Author
Dr. Dory Stutman earned his dental degree from the School of Graduate Dentistry at Case Western Reserve University and then followed that with a postgraduate program in esthetic dentistry at the University of Buffalo. Since then, he's gone on to transform smiles for nearly 30 years. Dr. Stutman specializes in cosmetic dentistry at South Shore Dental Care and can be reached for more information through his website.