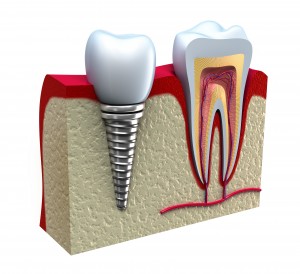 If you have missing teeth, you know that you need to replace them right away! Dental implants in Massapequa have been one of the best tooth replacement options available on the market because they can help you avoid all the problems that are associated with missing teeth, like bone loss and an aging facial appearance.
However, dental implants haven't always been so full proof. The dental technology that we have today has a lot to do with their extremely high success rate. Learn more about dental implants and how they can innovatively help you replace your missing teeth in this week's blog post.
Are you missing one or more teeth?
Your dentist in 11762 always encourages you to explore dental implants when you're looking into different restorative options. Why? They are an excellent tooth replacement option that patients love!  With such a high success rate, practically painless placement, and proven longevity, they are one of the most reliable options on the market.
Unlike other traditional tooth replacements, like dentures or dental bridges, dental implants bond right to the jaw bone like a natural tooth. They can replace one or more teeth or anchor to other dental prosthetics as well!
The Dental Technology Plays a Large Role in Implant Success
As mentioned above, if you decide to try dental implants, you have an increased chance of experiencing a stable, beautiful smile again. Not only will you have an implant dentist available to help you, but the tools and resources we use will help us to plan a successful implant placement.
The titanium in the actual implant posts fuses right to the natural jaw bone, creating a strong foundation through a natural process called osseointegration. The technology that is used to view below the gum line and meticulously plan your implant placement site provides a high-level of accuracy. Furthermore, patients that have had dental implants placed with the help of local anesthetic and/or sedation claim to not even remember any pain during their procedure!
Ask Your Dentist About Getting Dental Implants
If you're ready to explore dental implants and how they can help you, it's time to contact your local dentist. Scheduling a  consultation with your dental professional will allow them to evaluate your current oral health to determine if implants are the best option for you. In most cases, patients who are missing teeth that also have a desire to improve their oral health are great patients for this procedure.
Are you ready to explore getting dental implants? Don't wait any longer! Give us a call today.
---
About Our Office
Here at The Luminous Smile at South Shore Dental, our dental team is more than happy to evaluate your tooth replacement options and explain the procedures in greater detail. Our goal is to help you achieve a full, stable, aesthetically pleasing smile—so don't delay!