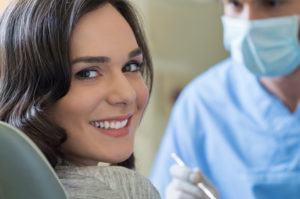 Before you get started with any big dental treatment plan, you need to take some time to consider the cost. If treatment doesn't fit your budget, it's likely not the right solution for you. If you're considering a smile makeover using porcelain veneers, there are a number of factors that can increase the cost of your treatment plan. A good dentist will take the time to talk to you about the cost of treatment and financing options, so you feel completely prepared. In this post, we'll talk about some of the factors that change the cost of your porcelain veneers, so you can prepare to talk to your dentist about the cost of your plan.

The Dentist's Training
No one wants to go to an undertrained dentist for treatment, but that extra training costs money. When you visit a dentist who has years of experience and/or extensive cosmetic dentistry training, you may have to pay a little more for their expertise.
Materials
The type of porcelain used will impact the overall cost of your treatment. There are a variety of high quality materials available, and your dentist should review the benefits and disadvantages of each to help you find the best option.
In-Office VS Dental Lab Veneers
Many dentists offer a same day porcelain veneer that can be crafted using a CEREC in-office restoration system. This can be a little pricier than sending your porcelain veneer design out to the lab, but your smile will be transformed in just one appointment.
Minimal Prep VS Traditional Veneers
Some patients don't know that there are actually two main types of veneers. Traditional porcelain veneers are thicker made from a high quality, dental grade porcelain used for crowns, bridges, and other restorations. Minimal prep veneers are also made of porcelain, but it is a lighter material. Prior to placement, these minimal prep veneers are about the size of a contact lens. There are benefits and drawbacks to both options. Traditional veneers will likely last longer, but they require a larger investment upfront and the removal of healthy tooth structure. Minimal prep veneers do not usually require the removal of any healthy tooth structure and they are more cost effective than traditional veneers. However, you will likely need to repair or replace minimal prep porcelain veneers twice as often as a traditional veneer.
Meet the South Shore Dental Care Team
Did you know your geographic location actually impacts the cost of your dental care? It's true. At South Shore Dental Care of Massapequa Park, we are proud to offer pricing for dental care that is competitive with other local rates, so you know you're receiving affordable treatment options. If you want to learn more about porcelain veneers and our other smile transforming treatment options, call our team today to schedule a cosmetic dentistry consultation. We'll review your options and help you create an affordable plan to achieve your desired results.