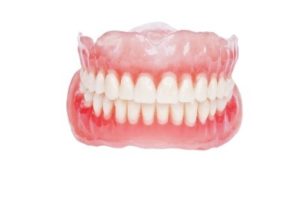 Are you living with the challenges of complete tooth loss in one or both arches? You are not alone. The American College of Prosthodontics estimates that more than 36 million Americans are in a similar situation. To replace your missing teeth, you have turned to dentures because they are affordable and convenient. Although they may have seemed like the ideal solution in the past, they no longer fit well. This can cause serious discomfort while compromising your ability to chew and speak. To resolve the challenges you are facing, you may need new dentures or maybe it is time to consider dental implants in Massapequa.

Why Don't My Dentures Fit?
When you initially received your dentures, your dentist in Massapequa used impressions, scans, and precise measurements to ensure the ideal fit. Using suction or an adhesive, they stayed securely in place, allowing you to chew, speak, and smile without any concerns. Unfortunately, as time has passed, your dentures no longer fit as well as they once had.
Now, you are experiencing slipping, irritation, and discomfort. In some cases, they may even fall out. Although you may be a bit surprised to be experiencing these complications, it is actually quite common due to bone loss in the jaw.
Your teeth are needed to stimulate the jawbone to encourage new bone growth. After you have lost your teeth, the bone is no longer stimulated. As a result, it begins to deteriorate. As this occurs, it provides your dentures with less and less support. Over time, they will no longer fit correctly, compromising their comfort and function.
To help promote a proper fit as you lose your bone density, it is important to have regular adjustments made to your dentures. In time, you will even need to have new ones made. This will be an ongoing battle that you will face; however, you do have an alternative solution with dental implants.
How Can Implant-Retained Dentures Help?
Implant-retained dentures are the only option that will stop bone loss while giving you a natural-feeling solution. A denture is created that is similar to a conventional one; however, instead of using an adhesive or suction, an average of 4 dental implant posts anchor it in place.
The dental implants are surgically placed into the jawbone. Your bone will fuse to the posts to provide a secure and stable foundation for the denture as they stimulate new bone growth. This not only preserves your bone density, but resolves any slipping, irritation, or discomfort. In fact, when compared to traditional dentures, they offer an increased biting force of over 70%.
Restore Your Smile Today!
If your dentures are giving you grief, it is time to restore your quality of life. Your dentist will discuss your options to stop the complications.
About South Shore Dental Care
South Shore Dental Care provides the best advancements in dentistry to improve your oral health and quality of life. If you are having trouble with your dentures, we offer the solutions you need. Contact our office today to schedule your consultation for a confident, comfortable smile.