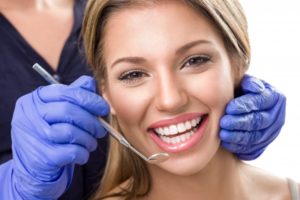 There are many patients who don't feel as confident in their smile as they should. If you're one of them—you don't have to feel that way forever. This is especially true because your local dentist has a variety of cosmetic options readily available for you like Lumineers and porcelain veneers in Massapequa. Learn more about your cosmetic options and how long they can improve your smile in this week's blog post!
Who is a Great Candidate for Porcelain Veneers or Lumineers?
If you are exploring cosmetic dentistry, you may have come across these two great options: veneers and Lumineers. Both porcelain veneers and Lumineers are very thin sheaths of dental ceramic that are bonded directly to the teeth in order to improve their aesthetics virtually in every way. If you want to mask dental flaws—and fast—then you might just be the perfect candidate for these types of cosmetic dental work. With them, you can cover more than one of these imperfections:
Dramatically whiten your teeth.
Cover chips and cracks.
Close gaps in the smile.
Make shorter teeth appear longer.
Straighten crooked teeth.
You can have one placed on a single tooth or get a complete set to transform your smile. Your smile design is completely up to you and your goals!
What Is It Like to Receive Veneers or Lumineers?
While porcelain veneers and Lumineers are quite similar, but there are some differences that you should note.
For both, you'll start by coming in for a consultation with your local cosmetic dentist in Massapequa.  During this appointment, you'll get a chance to discuss your smile foals and what you expect to achieve with either procedure.
If you and your dentist decide that porcelain veneers are the best option for you, the procedure will begin the procedure by gently removing a small portion of your enamel so that your veneers can naturally lay on your teeth without protruding awkwardly forward.
Then, your dentist will take an impression and fit you for a temporary set of veneers. This impression will be sent to a local dental lab to have your custom veneers created.
Once they are completed, you'll return to our office for the final appointment: to have your permanent veneers placed for years to come!
In the case that your dentist recommends getting Lumineers, the design and placement process is a bit simpler than veneers. Lumineers are much thinner than veneers, so none of your natural tooth enamel will need to be removed. This eliminates the need for temporary veneers. Plus, in the case that you need them to be removed for some reason, they can without compromising your natural tooth structure.
Either option is great for patients that want to improve the aesthetics of their smile for at least 10 years. By partnering with your dentist for effective dental care, you can make your dream smile last for a lifetime!
---
About Our Office
Here at The Luminous Smile at South Shore Dental Care, we love helping patients achieve a smile that they can proudly show off. If you want to make improvements, you can simply schedule a consultation to meet with one of our cosmetic dentists!