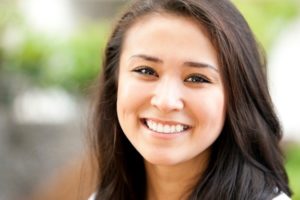 Do you have missing teeth? Have you been considering getting dental implants in Massapequa? That might be the best oral health decision you've made in a while!
Although dental implants have a high success rate of over 95%, there are a few things to consider when moving forward with the dental implant process. Learn about the different factors that your dentist considers before giving  patients the green light to receive dental implant restorations!
Who Makes a Good Dental Implant Candidate?
Your dentist will discuss these conditions for determining if you're a good dental implant candidate:
A great candidate for dental implants will have healthy gums. The gums are the foundation to keep your new tooth replacement in place.
A good candidate for dental implants will have superb jawbone strength.This is a big qualifier as the strength of the jaw keeps that replacement tooth in place as well as the surrounding tooth. Without adequate density, the implant may not fuse with your body or cause a painful, failing dental implant.
Viable dental implant candidates will be committed to great oral health. Once you have lost natural teeth, you need to stay diligent and committed to improving your oral health—especially when you have implant restorations. It's vital to care for them or else you will suffer from conditions like peri-implantitis!
How Can Dental Implant Restoration Become Complex?
As mentioned above, there are different things to consider when getting implants. The variety of issues can create a more complex dental implant case, like these conditions:
Peri-implantitis—an infection that develops around the implant and in the gum tissue that surrounds your implant restoration. This happens if the patient has poor oral hygiene, leading the implant to fail. If you show signs of poor oral hygiene before placement, your dentist will try to work with you to improve it before your implant placement—or recommend a different restoration for you.
There are many teeth to replace—if you suffer from severe tooth loss, you may need to explore a more extreme dental implant restoration process, like full mouth reconstruction. This can become more complex than simply replacing one tooth with single implant.
Your jaw doesn't have adequate density—as mentioned above, if your jaw is lacking in density, it could pose problems for your implants stability. Sometimes, your dentist is able to perform a bone-grafting procedure to rebuild it' strength before dental implant placement.
Nothing is more frustrating or disappointing than having a dental implant failure. That's why your local dentist will work with you beforehand to improve current oral health and replace your teeth with effective implants!
---
About Our Office
Here at The Luminous Smile at South Shore Dental Care, we want to make replacing your teeth as simple as possible. However, we do realize that every case is different. We recommend scheduling a consultation to discuss implants with our expert dentists to start! Give us a call today to schedule your appointment.