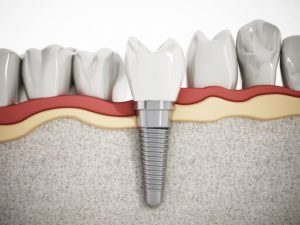 Dental implants in Massapequa Park provide a wonderful solution for replacing any number of missing teeth. Nothing else gives you back your tooth as well as its supportive root like dental implants. They do come at a higher cost than other options in tooth replacement — but most people agree that it's well worth the investment in a sturdy, confident smile.
How much do dental implants cost, exactly? The grand total will depend on a few factors, including where in the mouth the implants will be placed, how healthy your jaw is upon implantation, and what type of prosthetic you are receiving.
Factors Influencing Dental Implant Price
The total cost of dental implant procedures can vary greatly from patient to patient. The two biggest factors influencing the price of your dental implants are how many teeth you are missing and how good your oral health is.
Some of the most significant factors influencing dental implant price include…
Oral health: Dental implants require plenty of sturdy jaw bone structure for proper anchoring. If you have been missing teeth for several months or have had severe gum disease (periodontitis), you may have to have a bone graft procedure to replace missing tissue.

How many teeth are missing: The number of teeth that you have lost will determine which type of prosthetic you receive, which has a big impact on the cost of your implant procedure. A single dental implant will cost significantly less than a full arch replacement.

Anesthesia and sedation: All patients undergo local anesthesia to numb the treatment area, but people who are less relaxed while undergoing dental care may wish to receive sedation dentistry as well. If you wish to have this addition, expect that to add to the total of your implant cost.

Location of missing teeth: A more delicate procedure is required for dental implants placed in the front of the jaw, which can mean you may end up paying more for a replacement here than you would a molar.
Is It Worth It?
Considering the bigger initial investment required with dental implants, you may be wondering if it's really worth it to pay more upfront for this type of tooth replacement. The answer is a resounding yes — dental implants offer a wealth of benefits, including…
Better oral and overall health thanks to the comprehensive approach

Restored ability to eat, speak, and smile with confidence

No need for denture creams or adhesives with dental implants

Dental implants can last for a lifetime with proper maintenance
Many adult patients are excellent candidates for dental implants. To find out whether or not you, too, can benefit from this comprehensive replacement, or to discuss the specifics of what your procedure might cost, get in touch with your implant dentist ASAP!
About the Practice
The doctors at South Shore Dental Care are known for providing comprehensive dental services in a state-of-the-art environment. To learn more about their services or to schedule an appointment with the "dentist near me" you are searching for, you're invited to contact the office at 516-798-3808.