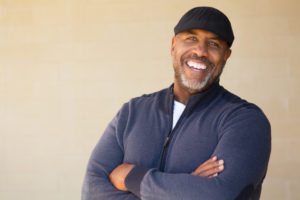 Looking and feeling your very best may be intrinsically linked to your smile. Studies show that people with full, attractive smiles are perceived as smarter, healthier, and more successful. They're also twice as likely to be hired for a new job or receive a promotion. If you're missing one or more teeth, don't put off tooth replacement. Visit a trusted dentist to find out more about your tooth replacement solutions, including versatile dental implant supported prosthetics.

What Makes Dental Implants Different?
Traditionally, tooth replacement solutions only restored those parts of the teeth visible above the gums. This provided patients with partially renewed oral health and a better looking smile, but compared with dental implant restorations, there was still something to be desired. Some of the benefits of dental implants compared with other tooth replacement options include:
Replace the root and the crown of the tooth
Increase stability and chewing ability especially compared with dentures
Last longer than traditional replacements saving money over time
Look and feel more natural improving confidence
Protect overall oral health preventing the deterioration of gum and bone tissue
What Types of Dental Implants are Available?
Dental implants are small, titanium posts that mimic root structure. When placed into the jawbone, dental implants can be used to support any number of replacement teeth from a single tooth to a complete row of teeth. We'll typically recommend the following replacement plans:
Single tooth – one dental implant post will be connected to a dental crown
Consecutive teeth – two consecutive teeth may be replaceable by attaching two crowns fused together to a single implant, but three or more consecutive teeth will need to be replaced with a fixed bridge connected to an implant post at both ends
Nonconsecutive teeth – for numerous consecutive and nonconsecutive missing teeth, a partial denture will likely be recommended, and in most cases, we're able to support the partial with three or four implant posts
Full arch – for a complete row of missing teeth, we will likely use a full denture attached to about four dental implants
Meet the South Shore Dental Care Team
The South Shore Dental Care team is dedicated to making dentistry services of all kinds accessible and understandable for our patients. Our monthly dentistry blog is one of the many ways we provide educational information about our wide array of treatments. We hope you found the information on dental implants helpful and invite you to contact our team to find out more or schedule a tooth replacement consultation. Our Massapequa Park dentist and team look forward to seeing you soon.