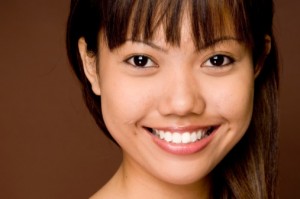 As general dentists, Dr. Dory Stutman and Dr. Khalida Stutman are firstly dedicated to making sure patients have healthy teeth and gums, and a healthy mouth. You need that foundation before any other type of dental treatment can be considered. But once oral health is ensured, then what they really love to do is make smiles more beautiful. As cosmetic a dentist in Massapequa, the Drs. Stutman and their team offer a number of procedures that can take your smile from blah to ooo-la-la!
Teeth Whitening for a Brighter and Younger Looking Smile
Want to take a few years off of your age? Teeth whitening can be one of the most effective ways to make you look younger. As we age, our teeth almost unavoidably begin to dull and darken. A combination of the foods and beverages we enjoy—coffee, tea, chocolate, red sauce and more—along with habits such as teeth grinding and smoking as well as some medications can have a cumulative effect on a smile that isn't pretty.
To erase stains and discoloration, your Massapequa cosmetic dentists use the Zoom! Teeth Whitening System. This safe and effective bleaching system uses a hydrogen peroxide based solution to make your teeth several shades brighter in just one office treatment. Alternatively, we also offer an at-home whitening kit if you prefer to whiten your teeth more gradually and in the privacy of your own home. Fill the custom-fitted trays with the bleaching gel we provide and wear them for about 30 minutes. In a matter of just a few nights, you'll see dramatic results.
Porcelain Veneers
Porcelain veneers are almost as popular as teeth whitening in Massapequa. Why? Because with veneers you cannot only change the color of your smile, you can also change the size and shape of individual teeth. Let's say you have a tooth that is proportionally smaller than other teeth. A porcelain veneer bonded to the facial side of that tooth can make it look longer or wider so that it corresponds to the size of other teeth.
Other cosmetic flaws that porcelain veneers conceal include:
Permanently stained or discolored teeth
Chipped or broken teeth
Cracked teeth
Slightly crooked teeth
Teeth that have wide gaps between them
Your Massapequa cosmetic dentist will gently reshape the original tooth and then permanently cement the porcelain veneer into place. With care, porcelain veneers can last 10 years or more.
Invisalign®
If you would like to straighten your teeth, we can do that too. We offer Invisalign, the orthodontic system that uses clear plastic aligners rather than traditional metal braces to move teeth into proper alignment. Invisalign aligners are removable, too, so you'll be able to eat all types of foods with ease and brush and floss your teeth as usual.
Call Our Office Today
If you're ready to give your smile and your confidence a boost, then contact South Shore Dental Center to schedule a consultation on cosmetic dentistry.