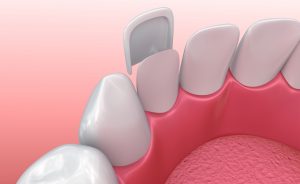 You take great care of your teeth – you brush and floss twice a day, every day. But, with all the coffee you drink, your teeth have turned yellow over the years. The discoloration only draws more attention to the tooth you chipped during a college volleyball game quite a few years back – you're tired of looking in the mirror and not seeing a smile that doesn't show who you are. You're considering cosmetic dental treatments, but aren't sure what would work best for you. The team at South Shore Dental Care tell you that you're a good candidate for porcelain veneers in Massapequa. In this post, the dentists explain how this procedure will upgrade your smile.
What Are Porcelain Veneers?
Porcelain veneers are a cosmetic treatment that corrects many common dental appearance issues. These can be used to address:
Chips
Staining
Minor alignment issues
Worn-down teeth
Misshapen teeth
Gaps
To start the process for veneers, you'll discuss the results you'd like to achieve with Dr. Dory Stutman and Dr. Khallida Stutman and they'll prepare your natural teeth to have the veneers affixed to them.
These thin, yet durable shells of porcelain will be permanently bonded to the front side of your existing dentitions. Since you get to choose the shade of porcelain and bonding agent, your teeth will be as radiant as you'd like them to be. And, you'll be amazed at how long-lasting veneers are.
Am I A Good Candidate For Porcelain Veneers?
With any procedure, your Massapequa cosmetic dentist will need to first ensure that you are a good candidate. Have a look at the details below to see if you might benefit from this treatment:
Healthy Teeth – You're free from tooth decay, cavities, gum disease and cracked teeth.
No Grinding – You don't clench your jaw or grind your teeth.
Good Enamel – You must have sufficient enamel so that the veneers can be bonded to a solid foundation.
Tooth Alignment – While minor crookedness or gaps can be corrected with veneers, severe misalignment can cause your upgraded smile to become marred with chipping or cracks from improper biting.
More Than One Issue – If you have more than one cosmetic issue you'd like to address, such as a misshapen tooth, a naturally short tooth, and staining, you're a good candidate for this treatment that can fix everything in one fell swoop.
You Want Results – If you're interested in long-lasting, great-looking results, porcelain veneers could be right for you.
Now that you know what porcelain veneers are, what the process is for them, and that you're a good candidate, schedule your appointment with South Shore Dental Care today and get the perfect smile that's waiting for you!