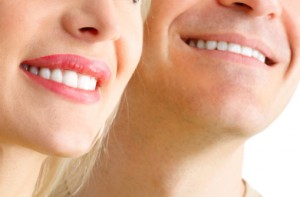 If your smile is marred by several different cosmetic imperfections, then maybe you should consider porcelain veneers. Made of fine dental porcelain or composite resin material, veneers are strong and durable. But perhaps more importantly they conceal the smile you have and give you the attractive smile you want. Before you decide to get porcelain veneers, Drs. Stutman, your cosmetic dentists in Massapequa, would like to answer some of the most commonly asked questions regarding this cosmetic treatment.
What Are Porcelain Veneers?
Simply put, porcelain veneers are coverings for your teeth that show most prominently when you smile. They are also called dental veneers or just veneers. But no matter what they're called, these dental wonders can transform your smile over the course of only two appointments in our office.
What Can Porcelain Veneers Correct?
Dental veneers can be used to hide or correct a number of dental flaws that may be detracting from your smile. These include:
Teeth that have permanent stains or discoloration
Chipped, cracked and broken teeth
Teeth that have wide gaps between them
Misshaped teeth
Teeth that are proportionally smaller than others
Slightly crooked teeth
What is the Procedure for Receiving Porcelain Veneers?
First, you will have an evaluation and consultation with your dentist. We'll conduct a thorough examination of your teeth and gums; your dental and oral health must be sound before beginning any cosmetic dentistry treatment. We also want to know what you'd like to correct and how you want your new smile to look.
Then, your new smile is designed based on information collected from digital x-rays of your teeth, photographs of your mouth and face, and impressions. Actually placing the veneers requires scheduling two appointments about two weeks apart.
At the first appointment, your teeth will be prepared for the veneers. This entails removing a slim layer of enamel from each tooth that will have a veneer laid over it. This is a permanent alteration that leaves room for the veneers to fit comfortably and look natural in your mouth. Once your teeth are altered, we'll give you a set of temporary acrylic veneers to wear while your porcelain veneers are handcrafted in the dental lab.
At the next visit, your permanent veneers will be checked and then carefully bonded to your teeth.
How Do I Clean My New Smile?
Porcelain veneers require about the same oral hygiene as your own teeth. Be sure to brush at least twice a day with a soft toothbrush and non-abrasive toothpaste. Flossing is important, too, in order to remove plaque that may accumulate between your teeth. And although veneers are strong, they can break or crack, so try to avoid using your front teeth to bite any hard objects.
Call Your Cosmetic Dentists in Massapequa
If you have more questions about porcelain veneers in Massapequa, please contact our office. One of the doctors or a staff member will be happy to help.