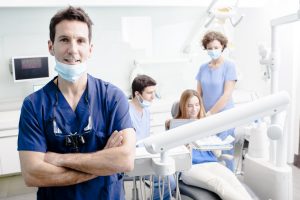 The National Cancer Institute advises regular oral cancer screenings. Drs. Dory and Khalida Stutman, dentists at South Shore Dental Care in Massapequa, wholeheartedly agree. Why is this simple and painless evaluation important? The facts are these: oral cancer can be deadly, but caught early, it is treatable for 80 to 90 percent of those diagnosed. Your dentist plays a significant role in keeping your mouth healthy and in spotting serious problems before they threaten your well-being.
Why Oral Cancer is Concerning
Oral cancer affects Americans with approximately 48,000 new diagnoses each year, says the Oral Cancer Foundation. Unfortunately, five-year survival rates are low when the disease is already in its advanced stages when discovered. ENT (ear, nose and throat) physicians, oncologists (cancer doctors) and dentists, such as Dr. Dory and Khalida Stutman, agree that survivability and cure rates increase when cancer is found early on in its development. However, left undetected, oral cancer kills half of its sufferers within five years.
What are the Symptoms?
Oral cancer can exhibit few overt symptoms as it develops. That's why dentists want to visually inspect the lips, tongue, back of the throat, gums and cheeks with each semi-annual check-up. Dr. Stutman palpates, or manually feels, the lymph nodes in the neck and checks for facial balance, any lumps, swellings or sores in the mouth and other symptoms the patient may or may not notice, such as:
Lesions that do not heal
Red or white patches in the mouth
Ear pain
Difficulty swallowing
Hoarseness of voice
Persistent bad breath
Trouble chewing
Change in the fit of a full or partial denture
Loose teeth
Numbness in the facial area
Who is at Risk?
Literally, anyone can develop oral cancer. However, there are some people groups who are more prone to develop it. They are:
People who consume excessive amounts of alcohol
Individuals exposed to the Human Papilloma Virus (HPV)
Men between the ages of 22 and 55 (men are twice as likely as women to get oral cancer)
Individuals who smoke or who chew tobacco
People exposed to secondhand smoke
People with diets low in fresh fruits and vegetables
Excessive sun exposure
Individuals with weakened immune systems
Also, the American Dental Association says that oral cancer risk increases with age.
Oral Cancer Screenings in Massapequa
Every time you come for your regular exam and cleaning at South Shore Dental Care, the doctor will examine you for signs of oral cancer. Don't worry. It's what you don't know that can hurt you.
Fortunately, the staff at South Shore Dental Care is diligent about this routine cancer screening. The dentists are passionate about getting to know their patients, and their medical histories, so they are on the alert for developing pathologies.
When Was Your Last Oral Exam?
If you are due, or overdue, for an oral exam and professional cleaning, please contact Shore Shore Dental Care today to speak with our friendly office staff. We have plenty of appointments, including openings on two Saturdays a month. We can find a time convenient for your busy schedule.