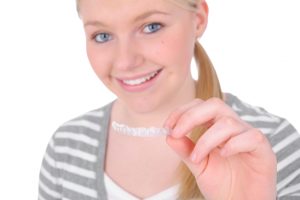 When you live with crooked teeth it takes a toll on your confidence, however the thought of wearing bulky metal brackets and wires may not be any more appealing. What if you could straighten your teeth without anyone ever noticing? It's possible! Invisalign may be the solution for you and Drs. Stutman can help. Here's more about the benefits of Invisalign in Massapequa.
Misaligned Teeth and Oral Health
While you may be concerned about your confidence, did you know that crooked teeth are also affecting your oral health? It's much harder to properly brush and floss teeth that are misaligned, and this increases your risk for tooth decay and gum disease. A misaligned bite may also cause or contribute to a joint disorder known as TMJ, which causes neck and shoulder pain, and contributes to headaches. Straightening your teeth also benefits your oral health.
What is Invisalign?
Invisalign uses clear plastic aligners that apply gentle pressure to gradually straighten your teeth instead of using the traditional brackets and wires of orthodontics. You'll wear your aligners for 20-22 hours per day, however they can easily be removed for brushing, flossing and eating. Most Invisalign cases can be completed in 12-18 months, making Invisalign ideal for busy adults and teens who want to straighten their teeth with discretion.
What are the Benefits of Invisalign?
Besides offering patients discretion, Invisalign offers a number of other benefits. Treatment is efficient and effective, and often requires less visits to the dentist than traditional orthodontics. Aligners are comfortable to wear and don't interfere with your normal daily activities. Because aligners can be removed easily, there aren't the restrictions to your diet or home care routine that there is with traditional orthodontics.
Am I a Candidate for Invisalign?
Our doctors are certified Invisalign providers and they can determine if Invisalign is right for you with a thorough examination, x-rays, and photos of your teeth. Using 3D imaging, they'll create your treatment plan, and your aligners will be fabricated based on this plan. You'll even be able to see what your smile will look like when it's completely aligned before you ever start your treatment!
If you've lived with crooked and misaligned teeth, it's time to reclaim your confidence and your oral health. Give South Shore Dental Care a call to learn more about what Invisalign can do for you.