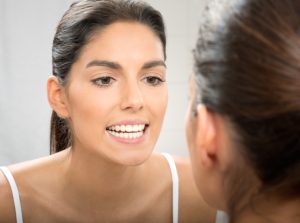 Now that you have a beautiful new smile with porcelain veneers in Massapequa, you want to keep your new smile looking its best. As your Massapequa cosmetic dentist, we have everything you need to know about caring for your new veneers. With the proper aftercare, you'll not only keep your new porcelain veneers looking their best, but you'll help prolong the longevity of the veneers before needing replacement. Not to mention, you'll promote your oral health and protect the teeth bonded to the veneers from damage.

Caring for Your New Smile
Caring for porcelain veneers in very easy and doesn't require many extra steps than when caring for your natural teeth. You are easily able to implement veneer care into your daily oral hygiene routine to protect your new smile.
When caring for your veneers, the most important thing to remember is to avoid any abrasive products. While the veneers are durable, they are prone to scratches should you use abrasive products. As a result, you'll want to use a soft bristled tooth brush and nonabrasive toothpaste when brushing your teeth.
Ideally, you'll want to use a fluoride toothpaste to brush your teeth after every meal. Or, at the very least, brush twice a day. You'll also need to floss your teeth at least once a day to remove plaque accumulation between the teeth. This will also help prevent plaque from building up on the back of the teeth that are bonded to the veneers.
In addition to your home routine, you'll need to visit your cosmetic dentist in Massapequa every 6 months for regular checkups and cleanings. At each appointment, we will not only check your oral health, but we will check the veneers for signs of wear or damage. We will provide thorough cleaning to help protect the veneers for many years to come.
Protecting Your Veneers
Porcelain offers a brilliantly white smile that can last for 10 to 15 years. However, porcelain can stain so you'll need to take extra precautions to protect them from stains. For example, if you use tobacco, your veneers will eventually turn yellow. In addition, coffee, tea, and other stain-causing foods and drinks can stain your veneers. To reduce the occurrence of staining, brush your teeth after every meal or after drinking stain-causing beverages.
Oral health starts from the inside out, so be sure to eat a well-balanced diet of fruits and vegetables. Not only will you promote your oral health and overall health with a well-balanced diet, but you'll help remove plaque from your teeth. Fruits and vegetables naturally remove plaque and reduce bacteria growth that can lead to cavities and gum disease.
Your Massapequa Cosmetic Dentist
If you're ready to get an amazing new smile with porcelain veneers in Massapequa, you'll get a luminous new smile with South Shore Dental Care. Let us give you a dazzling new smile. Call our office today at (516) 882-1583 to schedule an appointment. With South Shore Dental Care by your side, we'll bring your smile into the light.