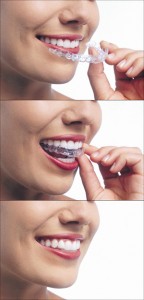 Shhh. Can you keep a secret? At South Shore Dental Care, Dr. Khalida Stutman and her staff in Massapequa have been helping patients keep orthodontic treatment quiet for years. How? With Invisalign, hardly anyone but you and your dental team will know that you're wearing braces. Dr. Khalida Stutman is a premiere Invisalign provider. So for straight smiles with Invisalign, Massapequa trusts the dentist and her team at South Shore Dental Care.
In addition to being a member of the American Dental Association and the American Academy of Cosmetic Dentistry, Dr. Khalida also attended the United States Dental Institute one-year program in orthodontics. The advanced education uniquely qualifies her among dentists to provide dental as well as orthodontic services. And what could be more beneficial and convenient that having you dentist and orthodontist be one and the same provider?
What Makes Invisalign Different?
Unlike traditional braces that rely on metal brackets and wires to move teeth into proper alignment, Invisalign uses a series of clear plastic braces. Each set of Invisalign aligners are uniquely molded to snuggly fit over your teeth and gradually move your teeth step-by-step toward a perfectly straight smile. Furthermore, orthodontic treatment with Invisalign averages about one year, whereas traditional braces usually require two years or more. So, in addition to being practically invisible, Invisalign gives you faster results!
Other Invisalign Advantages
Aside from being more inconspicuous and speedier than traditional braces, Invisalign offers other advantages as well. First, Invisalign clear plastic braces are removable. This means that when it's time for breakfast, lunch or dinner, you just take out your Invisalign and enjoy whatever you like. With traditional braces, you have to avoid certain foods, such as popcorn, chewy candy and hard foods like carrots and nuts. Not so with Invisalign!
In addition, because your braces are removable you'll be able to maintain your normal oral healthcare routine at home and in our office. Brush your teeth twice a day and floss at least once a day, and be sure to continue coming to us for your regular dental cleanings and exams. Of course, there will be other appointments, so Dr. Khalida can check on your progress with Invisalign. But before you know it, your straight smile won't be a secret anymore!
For Invisalign, Massapequa Calls South Shore Dental Care
Want to know if you're a candidate for Invisalign? Schedule a consultation with Dr. Khalida Stutman at South South Dental Care in Massapequa Park, NY.