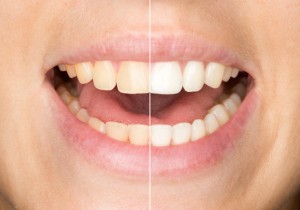 A bright, white smile lets you shine from the inside out, but overtime, our bright smiles can begin to fade. Often, we turn to home or over-the-counter whitening treatments, but often they are ineffective and don't produce the results we want. The only way to fully brighten your smile is with professional teeth whitening in Massapequa. At South Shore Dental Care, we offer Zoom Whitening in Massapequa. Zoom Whitening is a safe and effective procedure to instantly see a noticeable difference in the brightness of your smile.

Do I need my teeth whitened?
As we age, our teeth naturally discolor, however, the progression of discoloration is often increased due to poor dental hygiene, lifestyle factors, food and beverages, and even certain medication. For patients who have healthy teeth and gums, but have some discoloration, they will benefit from professional whitening treatments to brighten their smiles. However, teeth whitening isn't right for everyone, such as those who have gum disease, cavities, crowns, and other restoration procedures. Zoom Whitening is a professional in-office whitening procedure used to lighten discolorations of the enamel.
How does Zoom Whitening work?
Zoom Whitening uses the Zoom Advanced Power Chairside Lamp to increase the whitening process by activating the hydrogen peroxide for whitening. The lamp allows the hydrogen peroxide to breakdown, allowing it to penetrate the enamel and dentin to reduce the appearance of stains and discoloration. While the treatment is highly effective, it is also safe and doesn't harm the tooth structure.
The entire procedure takes roughly less than an hour and can only be performed once the teeth have been cleaned prior to the procedure. Upon performing the procedure, the lips and gums are prepared with a special covering to avoid exposure and irritation from the whitening treatment. The Zoom solution gel is then applied to the teeth and the light is set in place to allow the two to work together for three 15-minute sessions. After the procedure is complete, a gel is applied to the teeth to reduce tooth sensitivity.
How often do I need it done?
You may be given a home maintenance kit to help preserve your new white smile. The touch up kit includes trays that are custom-fit to your mouth with instructions for use. This allows you to maintain the whiteness of the teeth for prolonged results, however, factors that are known to stain teeth may once again cause discoloration if they aren't avoided.
Get a Whiter Smile Today
As a leading dentist, we believe in using the latest technology to produce the best results to whiten your teeth. We understand the role your smile plays in how you feel about yourself and how others view you, which is why we are committed to giving you the brightest, whitest smile possible.
With our in-office Zoom Whitening, we'll give you the bright white smile you desire. Or, if you prefer, we even offer an at-home whitening treatment with custom bleaching trays to whiten your teeth around your own schedule.
If you're ready to bring your smile into the light, call South Shore Dental Care today for a luminous smile.