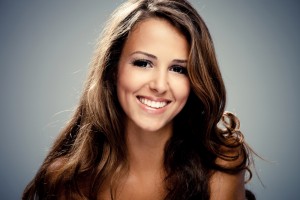 They say hindsight is 20/20. Well, what if you could take a look at what your smile will look like after cosmetic dentistry? Then your foresight would be 20/20 and you'd probably feel much more comfortable with the decision to go ahead with treatment. That's exactly what's happening at South Shore Dental Care, Drs. Dory and Khalida Stutman's Massapequa dental office. With PreNew Preview, you get to see what your new smile will actually look like on you before treatment begins with your Massapequa cosmetic dentist.

The PreNew Preview system is the brainchild of master ceramist Jason J. Kim, a noted leader in aesthetic dental restorations and the founder of Jason J. Kim Dental Aesthetics. PreNew Preview is essentially a two-step process.
After one of our dentists proposes a plan to enhance your smile, we take a digital photo of your teeth, as well as an impression. These along with the detail of your treatment plan are sent to the lab at Jason Kim Dental Aesthetics. Here, a realistic but temporary mockup of your new smile is fabricated and then returned to South Shore Dental Care, the Massapequa cosmetic dentist more people trust for their beautiful smiles.
At your next visit, Dr. Stutman will apply the mockup over your natural teeth to give you an accurate idea of what your newly created smile will look like when your cosmetic dentistry treatment is completed. You don't need to decide right away, though. We'll be happy to take a photo of your new smile on your smartphone so you can share with family friends and get their input before you commit to treatment.
Once you see what a dramatic difference cosmetic dentistry can make in your smile, your overall appearance and even your self-confidence, we bet you'll be ready to go ahead and have the smile you've always wanted. Whether you are considering porcelain veneers that necessitate a permanent alteration to your natural teeth before application or Invisalign® clear braces to straighten you teeth, you'll feel better knowing the end result thanks to the sneak peek provided by PreNew PreView.
Call Our Office Today
If you would like more information about PreNew PreView, or if you've been hesitant to schedule cosmetic dental treatment up until now, then contact South Shore Dental Care. Massapequa cosmetic dentists Drs. Stutman will be glad to consult with you and discuss how we can improve your unique smile.