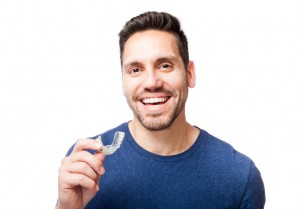 Getting the straighter teeth you desire as an adult doesn't have to leave you feeling anxious or uncomfortable in metal braces. In fact, today's adult braces are convenient, comfortable and practically invisible. Keep reading to learn about Invisalign in Massapequa at South Shore Dental Care, your answer to adult orthodontics!
Invisalign gives Massapequa something to smile about!
Invisalign is an FDA-approved treatment that works to correct a number of orthodontic issues, without any of the muss or fuss of conventional metal braces. Invisalign can fix the following dental alignment issues:
Overbite, when the top teeth reach too far over the bottom teeth

Underbite, when the bottom teeth cover the top teeth

Crossbite, when the top and bottom teeth don't meet properly

Gapped teeth

Crowded teeth
Adult and teen patients who have healthy mouths free of tooth decay and infection (including gum disease) are typically excellent candidates for the Invisalign system.
How Invisalign Works
Your South Shore dental team can't wait to set you up with the Invisalign system. When you come in for your initial appointment, Dr. Stutman will evaluate your mouth and take x-rays, photos and impressions of your teeth to be sent off to the Invisalign lab, where your unique system is created. Once your clear aligners are ready, they'll be shipped right to you — and you can begin your treatment immediately! Just switch to a new tray in the system each two weeks, visit South Shore Dental Care as directed and you'll quickly be on your way to the straighter, more beautiful smile you've always desired.
Advantages of Massapequa Invisalign
You've probably never known anyone to say they felt comfortable in their braces — but maybe you've never known anyone who's straightened their teeth with the Invisalign system. The benefits of removable trays are numerous. Some include:
More freedom eating and cleaning with removable devices

Increased comfort with plastic trays instead of metal brackets and wires

Average treatment time is half of that of conventional metal braces

Fewer trips to the dentist and a shorter treatment time overall mean less time spent in the dental chair, and more time spent enjoying your new smile!
Ready for your new smile? South Shore Dental Care Can Help!
If you think it's time for a big time smile improvement, what are you waiting for? See what we can do about your misaligned teeth with Invisalign in Massapequa. Dr. Stutman and the whole team at South Shore Dental Care can't wait to help you build your best smile. Schedule your appointment online today!