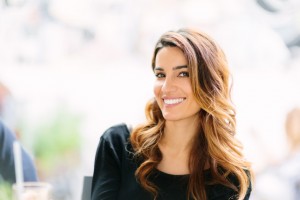 When you feel good about your smile, everything around you looks a little brighter — and you do, too. In fact, adults who have attractive teeth are generally perceived by their peers as more successful, outgoing and happier overall. Don't let imperfect teeth affect your life for the worse this year. Choose Massapequa cosmetic dentistry at South Shore Dental Care and let 2016 be the best year yet!
Massapequa Cosmetic Dentist Upgrades Smiles and Lives
Dr. Stutman is the cosmetic dentist your Massapequa neighbors trust. We see the evidence in our office nearly every day — smiles and lives transformed by one of the following trusted offerings in cosmetic dentistry.
Teeth Whitening Massapequa Counts On
It's one of the most popular treatments in cosmetic dentistry: teeth whitening. Dramatic results, fast — there's no wondering why our patients prefer this option when they want to feel great about the appearance of their teeth.
Zoom! Whitening brightens smiles up to eight shades in just one treatment, right here in our office. That means you can come in with a dingy, aged smile, and leave just one hour later with the dazzling smile you've always wanted.
For gradual results you can achieve at your own pace, we offer at-home whitening treatments, too. These use custom-fit trays and a professional-strength bleaching solution, giving you truly amazing results, from the privacy of your home.
Options in Porcelain Veneers
Porcelain veneers are a wonderful treatment for smiles suffering from cracked, broken, stained, misaligned or misshapen teeth. They're ultra thin caps that fit right over the damaged tooth, immediately enhancing its appearance.
We know no two mouths are the same, and that's why we're proud to offer variety in each of our services. It's certainly no different with porcelain veneers. In fact, you can find three options in veneers here at South Shore Dental. Read more about Lumineers, DaVinci Veneers and DURAthins by clicking here. Whatever the option you choose, you can feel confident knowing you're enhancing your smile with a trusted, quality treatment.
Invisalign Straightens Teeth Invisibly
If crooked, crowded, gapped or misaligned teeth are interfering with your smile confidence, you don't have to add even more stress to the mix with those noticeable metal braces. Today's orthodontic issues can be resolved discreetly with Invisalign, clear braces for adults and adolescents. This option uses clear, smooth plastic trays to gradually shift teeth into their desired position. It's a more comfortable, convenient option all around.
Interested in Improving Your Smile in 2016? Contact Us Today
If you'd like to experience the difference having a beautiful smile can make, please don't wait to contact our office. We're currently planning for a busy January — we want to make plans for improving your smile, too! Let us know you'd like to discuss your options in cosmetic dentistry by clicking here. We can't wait to see you with your best smile.