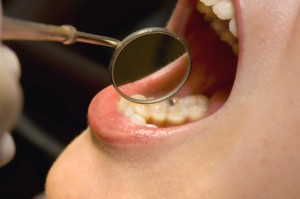 If you've got a cracked, broken or severely discolored tooth, you're probably already aware of dental crowns — an excellent option in tooth restoration. But if you're familiar with crowns, you probably also know the total treatment used to take as long as two to three weeks to complete. We're here with good news: you can now have dental crowns applied in just one, one hour visit to Dr. Stutman, your Massapequa dentist at South Shore Dental Care!
A One Hour Crown in Massapequa Is Your Smile Solution
To understand how one hour crowns at South Shore Dental Care work, let's first go over how traditional dental crowns restore teeth. They're thin caps that fit directly over the damaged tooth, essentially "crowning" it to protect the tooth from further breakage or decay. Crowns are typically made of porcelain to produce a natural-looking, sturdy restoration — something our patients always appreciate.
You're probably thinking that a dental crown sounds like exactly what you need. But how does the one hour crown work? Let's take a look.
How We Craft One Hour Crowns in Our Massapequa Office
Using advanced CEREC, or CEramic REConstruction, technology, Dr. Stutman can complete the entire dental crown process in just one visit to the Massapequa office. CEREC uses digital impressions that we send to our in-house milling unit, which then turns a block of porcelain into your beautiful porcelain crown. And this system is more than quick — by harnessing CAD/CAM technology, we're able to work with super-precise measurements without having to take those messy, bad-tasting impressions.
What Patients Love About One Hour Crowns
The benefits of one hour crowns in Massapequa are many — and the most obvious is, of course, the fact that they're completed in just one visit to the dentist's office. But there are more than that. Our patients have praised the following features of their one hour tooth restorations:
Comfortable. Because CEREC technology removes the need for impressions, you don't have to worry about gagging on that goopy, messy substance as we take measurements of your mouth. It's a clean, quick, digital process that won't bother you at all.

Results that last. With digital measurements, our image of your mouth is more precise than ever before — meaning you end up with a crown that's perfectly fit for your unique tooth.
Interested? Schedule Your Appointment Today
If you've got a damaged tooth that's in need of a restoration, you owe it to yourself to learn more about one hour crowns at South Shore Dental Care. Call us to schedule your appointment today — for the sake of your beautiful, healthy smile!