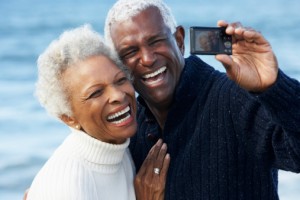 The holidays are just around the corner. Why not give yourself and your loved ones the most precious gift of all? The gift of good health. At South Shore Dental Care in Massapequa Park, NY, an oral cancer screening is a routine part of your biannual dental checkup. With this regularity, Dr. Dory Stutman and Dr. Khalida Stutman are better able to catch a symptom of this cancer early when it is still very treatable.

According to the Centers for Disease Control and Prevention, there are approximately 30,000 new cases of oral cancer every year, and more than 8,000 deaths are attributable to this disease annually. The five-year survival rate for people diagnosed with a cancer of the oral cavity or pharynx is only about 50 percent. Not surprisingly, the key to increasing this oral cancer survival rate is early detection.
Oral cancer can occur anywhere in the mouth, including your tongue, lips, gums, cheek lining, and the roof and floor of the mouth. Signs and symptoms of oral cancer include:
A sore anywhere in the area of your mouth that does not heal
A lump or thickened spot
A red or white patch that may or may not be raised
A loose tooth
Pain in your mouth
Jaw stiffness or discomfort
A sore throat
Feeling like something is stuck in your throat
Of course, if you notice anything unusual, please call our office immediately. You don't have to wait for your next checkup to be seen if there is something that concerns you.
Oral Cancer Screening Procedure
At South Shore Dental Care, an oral cancer screening is a two-step process. First, one of our dentists palpates your jaw, throat and neck area in order to feel for any abnormal formations. Then, we use a tool called Vizilite® to more easily detect and evaluate precancerous or cancerous oral cell lesions that may be difficult to see during a visual examination.
Using Vizilite during a dental checkup takes only a couple of minutes. And the Vizilite tool is quite small, so we can use it to illuminate just about any spot in your mouth and throat.
Oral Cancer Risks and Prevention
There are behaviors that can increase the risk of oral cancer. First and foremost is tobacco of any kind—cigarettes, cigars, pipes and chewing tobacco. If you smoke or chew… quit! Another risky behavior is excessive consumption of alcohol. Occasionally having an alcoholic beverage is okay. However, if you drink more than occasionally, try cutting back. Too much time in the sun can also increase the risk or an oral cancer developing on your lips. Be sure to use a lip balm with SPF if you're going to be out in the sun.
Call Our Office Today
If you notice any of the signs of oral cancer listed above, then please call South Shore Dental Care in Massapequa Park, NY, to schedule an appointment.