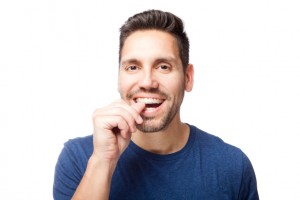 We all want teeth that can turn heads. The easiest way to get a smile that looks simply gorgeous is by receiving straightening treatment. You see, straight teeth get noticed for all of the right reasons. Straight teeth can be a goal for anyone, no matter how young or old. Traditionally, the only way to correct a misaligned smile was through conventional metal braces. It's a good thing treatment has taken a major step forward within the last decade. Now, there's treatment that can get your teeth straight under the cover of disguise! Well, sort of. It's "invisible" treatment that can straighten your teeth.
Invisalign has quickly become the preferred method of straightening treatment for many patients. There are plenty of reasons why people have chosen it over and over, and it's mainly because traditional metal braces take way too long and are a lot more costly. Our office in Massapequa Park, NY specializes in offering this state-of-the-art treatment. Are you ready for Invisalign, Massapequa Park residents?
What Makes Invisalign So Great?
Invisalign is truly the best way to straighten teeth, hands down. What, you want to go through with metal braces just like a teenager would? Yes, the results are amazing and can get you the look you want, but treatment is MUCH longer and the pain associated with metal braces has been felt by countless patients over the years.
Invisalign offers all of these amazing benefits:
You can remove the device at any time to enjoy your favorite foods

Its clear plastic technology is very comfortable when it sits against your lips

Treatment time is slashed in more than half the time – average treatment of 1-1.5 years

"Invisible" treatment – nobody will ever have the slightest idea you're straightening your teeth
Aren't those great benefits? A straight smile is within your reach, you just have to grab it! There's a reason so many patients have opted for this specialized straightening treatment. The days of having everyone know that you're straightening your teeth are officially over. You deserve a smile that can floor a room and leave everyone speechless.
Schedule a Straightening Appointment Today
Are you ready to transform your smile into a beautiful work of art? Schedule a consultation with our dental team to see if you're eligible for Invisalign treatment. We want all residents around the area to enjoy these clear braces – Massapequa Park, NY residents included! We welcome everyone from Wantagh, Seaford, Bellmore, Amityville and beyond.
.