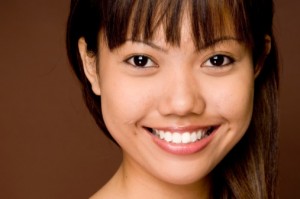 Most people can't help but smile when they're happy or when they see something that amuses them. But if you are one of those who immediately brings your hand to your mouth to cover your smile, then perhaps you should consider porcelain veneers from Drs. Dory and Khalida Stutman at South Shore Dental Care in Massapequa Park, NY. Porcelain veneers are the modern dental wonders that cover up the smile you don't want to share and reveal the smile you are proud to show!
Porcelain veneers can be used to correct a number of cosmetic flaws in your smile including:
Chipped teeth
Teeth that are slightly broken or fractured
Misshaped teeth
Slightly crooked teeth
Teeth with gaps in between them
Regardless of which cosmetic imperfection is causing you to hide your smile, our doctors can give you the smile of your dream with porcelain veneers, also called dental veneers or just veneers.
What is the Process for Porcelain Veneers?
To make that dream a reality, you'll first meet with one of our dentists to discuss you smile goals. We want to know what you envision. If you want, you can even bring photos of family, friends, or celebrities whose smiles have characteristics you admire. Once we determine that you are a qualified candidate for veneers—meaning you don't have any other outstanding dental problems that need to be taken care of first—we will take x-rays, photos and impressions of your teeth.
Then, one of our dentist will prep the teeth that will receive veneers by removing a small amount of enamel. This helps to ensure that your veneers lay flush with your other teeth and adhere well. If you are getting minimal-prep or no-prep veneers, then we will only need to etch your teeth. Once this step is completed, we'll take another impression that will be sent to our renowned dental ceramist who will hand craft your porcelain veneers. While this is happening, you'll wear temporaries to protect your prepped teeth and accustom you to the feeling of veneers in your mouth.
In a couple of weeks when your permanent veneers are ready, we will call you back to have them adhesively bonded to your teeth. Each veneer will be carefully examined and gently trimmed for a perfect fit. Once all of your veneers are in place, you'll never want to hide your smile again!
Call Our Office Today
If you would like to talk to the cosmetic dentist Massapequa, NY, can trust for the best advice on enhancing your smile, then schedule an appointment with Drs. Stutman at South Shore Dental Care. Our practice welcomes patients from surrounding areas including Long Island, Merrick, Bellmore, and Wantagh.