Are you constantly dreaming of having a stellar, vibrant smile? Do you wish you could achieve a celebrity-like smile and "wow" everyone in the room? Everyone wants a brilliant, lovely smile, but the unfortunate fact is most people do not have a radiant set of teeth. Teeth crowd together during developmental stages and experience stains from food and beverages. Others experience oral injuries, i.e. chipped or cracked teeth, which pushes the dreams of a perfect smile further and further away. Luckily, The Luminous Smile at South Shore Dental Care, located in Massapequa Park, NY, can restore your smile and help you achieve the picture-perfect set of teeth with cosmetic veneers.
What are Veneers?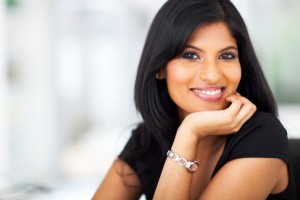 No one has a natural set of perfect teeth. Outside of the crowding/spacing of development and stains received from food, teeth will naturally turn into a dull, yellow color. This can cause a lot of frustration for those seeking whiter, more aesthetically pleasing teeth, and it can have a negative effect on self-esteem. Porcelain veneers, offered by the expert duo of Dr. Dory Stutman and Dr. Khalida Stutman, can correct these imperfections with a simple treatment. Veneers are simply thin, personalized pieces of porcelain, which are bonded to teeth, correcting chips and cracks in teeth, fixing size or color issues, and presenting a perfect, white look for the teeth.
What is the Procedure for Getting Veneers?
When you arrive for you initial consultation at our state-of-the-art office, our incredible team and talented doctors will examine your teeth and create a plan for the procedure. Impressions and images may be taken to help the process. Your customized veneers will be created in a laboratory by our professional team. We will have you back for a follow-up appointment so we can bond the veneers to your teeth and give you an amazing smile. It may be necessary to remove some enamel from your tooth before the bonding process, but the entire procedure is completely painless. After bonding, we will polish off the veneers and make any necessary adjustments. When complete, you will walk out of our office with a celebrity-like, glowing smile.
Achieve Your Dream Smile
Don't you think it's time to correct your dental imperfections and achieve a beautiful, white smile? Contact our office and schedule an appointment with our incredible staff. We happily accept all patients who live in Massapequa Park, NY, Long Island, Merrick, Bellmore, Wantagh, and the neighboring cities.