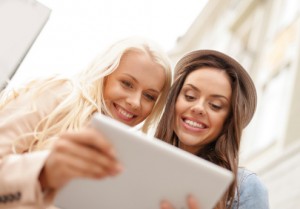 What could advance your career, fill up your social calendar, and improve your overall quality of life? The answer is: a healthy and confident new smile. Study after study has proven the benefits and attractiveness of a bright smile. A smiling face tells others that you're an outgoing and intelligent person worth getting to know. A beaming smile is always perceived as warm and welcoming. But if you have cosmetic dental concerns causing you to hide your smile from the world, it's time to make a change. We can help. Just email us your picture and we'll show you how the cosmetic dentistry experts of South Shore Dental Care can transform your smile today. Drs. Dory and Khalida Stutman design new smiles daily throughout Massapequa, NY, Long Island, Merrick, Bellmore, Wantagh, and the surrounding communities.
First, Dr. Stutman will take several digital pictures of your smile. Then, utilizing a special smile design program, we will digitally enhance these images to preview the prescribed changes to your smile. These prescribed changes are based on the results of your smile analysis. When the process is complete, Dr. Stutman will provide your pre-treatment photographs and computer-enhanced images for comparison.
A smile conveys both self-assurance and professionalism. Hiding your smile could be keeping you from realizing someone of your short and long term goals, both professionally and personally. But you don't have to go through life with a self-conscious smile. Many dental problems can be easily fixed. Email us a picture to get your smile makeover started today. The highly qualified cosmetic dentistry team at South Shore Dental Care will help you achieve the smile of your dreams. Drs. Dory and Khalida Stutman proudly serve patients daily throughout Massapequa, NY, Long Island, Merrick, Bellmore, Wantagh, and nearby areas.