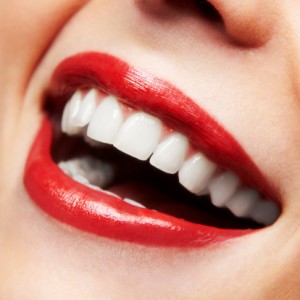 Lisa loathed the idea of going on a blind date. But a good friend finally convinced her to go on one with a smart and classy dentist from her hometown. With a few more days to go before the big date, Lisa was starting to get a little worried. In her opinion, she was looking better than she ever had, except for her smile. Lisa loved her coffee, and indulged in a cigarette or two here and there. She also enjoyed a glass of wine with dinner. Over the years, she noticed that these habits had begun to take a toll in her teeth. Instead of the bright white color they were in high school, now they had a yellowish hue and some brown spots near her gum line.
Lisa had a long standing fear of the dentist so she hadn't had any dental care in a few years. Lisa tried switching to a teeth whitening toothpaste a few months ago, but hadn't noticed any difference in the color of her enamel. So with only two days to go before her date, she decided to try an at-home teeth whitening system from her local drug store. She followed the directions correctly, or so she thought, but soon began to regret this decision. Not only did the harsh bleaches irritate her gums, but they failed to whiten her teeth any better than the whitening toothpaste and did nothing to affect the brown spots. That was the last straw. Lisa decided it was time to make an appointment with a dentist and get her teeth whitened professionally. She only hoped she'd be able to get an appointment in time for her date. Don't waste time with inferior whitening treatments like Lisa. Make an appointment with the experienced dentists of South Shore Dental Care. They help patients like you everyday achieve the teeth whitening results they expect and deserve. South Shore Dental proudly serves patients throughout Massapequa, NY, Long Island, Merrick, Bellmore, Wantagh and surrounding areas.
Do It Yourself Teeth Whitening Treatments
Whitening Toothpaste- Whitening toothpaste can polish away shallow surface stains but can't change the actual color of your teeth or lighten a stain that goes deeper than the tooth's surface. Typically, whitening toothpaste takes two to six weeks to produce any results. Whitening toothpaste is probably most useful for maintaining the results of professional teeth whitening treatment.
Store-Bought At- Home Whitening- Over-the-counter teeth whitening products contain much lower concentrations of whitening agents than the professional products used by a dentist. In most cases, you need to use them over and over again for many weeks before you will see any change in the whiteness of your teeth. This type of teeth whitening treatment can also irritate your gums or be completely ineffective if you have worn tooth enamel, gum disease, sensitive teeth or tooth-colored fillings and crowns.
Professional Teeth Whitening Solutions in Massapequa Park, NY
South Shore Dental offers Zoom Whitening. Zoom can whiten your teeth up to eight shades in just in hour. You can also try their take-home teeth whitening option. This includes custom bleaching trays and teeth whitening bleaching gel to protect your gums from irritation. You may not have a date with a dentist, but you probably care just as much as Lisa does about how your teeth look. Remember that your teeth may have stains that require professional teeth whitening, or even more permanent cosmetic procedures like porcelain veneers, bonding or dental crowns. Get the teeth whitening results you want the first time by making an appointment with the teeth whitening experts of South Shore Dental Care. They help people like you and Lisa achieve brighter, whiter smiles every day. South Shore Dental proudly serves patients throughout Massapequa, NY, Long Island, Merrick, Bellmore, Wantagh and surrounding communities.