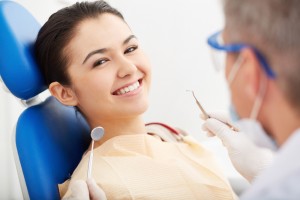 Many people underestimate the importance of a routine dental checkup. Though many people think they should see their dentist only when there is a problem with their smile, going to see your dentist every six months can actually save your life. With summer here, many people want to make sure that their smiles are in tip top shape in order to fully enjoy the summer season. With a general dental checkup with Dr. Dory Stutman and Dr. Khalida Stutman, you are sure to have the healthiest smile you have ever had.
Having your dental checkup performed by Drs. Stutman means thorough and quality care. One of the things our doctors will look for during your dental checkup is signs of gum disease. Gum disease affects millions of Americans, and if left untreated, has the potential to lead to many negative effects in different areas of your body. Our doctors will be able to halt the progress of your gum disease and get your gums back to where they should be.
Another thing our doctors will look for is signs of oral cancer. With over 30,000 people diagnosed with oral cancer every year, and most patients get this disease via tobacco or alcohol consumption. With early detection, we can greatly reduce the amount of deaths associated with oral cancer, and Drs. Stutman use VizLite to accomplish this. VizLite makes early detection of oral cancer possible, and saves lives every day.
We will also be able to remove plaque and tartar from below the gum line, erasing the bad bacterium that infects your smile. Inspecting each and every tooth, making sure everything is well and looking for any signs of decay is also a part of our dental checkup. If we do find any signs of tooth decay, we will address the situation immediately, making sure your smile is as healthy as it can be. If you are due for your dental checkup, make an appointment at our office, and we would love to help!
At South Shore Dental Care, we're committed to providing our patients with a wide array of dental services, high-quality cosmetic dentistry, and up to the minute dental technology. Our Massapequa dental office serves patients from Long Island, Merrick, Bellmore, and Wantagh. Call us today to schedule your appointment.