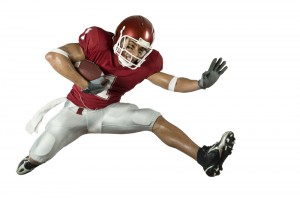 Throughout the day, your smile is in danger of getting damaged. Whether it's a stain, a chip, or a crack, your smile goes through the daily rigors of life just like you, and without proper protection, the consequences could be detrimental. Drs. Khalida Stutman and Dr. William Rubino wants to make sure your smile stays as protected as possible, which is why he offers custom mouth guards to his patients!
Mouthguards can be useful in many different ways for our patients. One way mouthguards are beneficial are those who suffer from TMJ. TMJ is where one experiences pain in their jaw due to, most commonly, teeth grinding. The symptoms of TMJ include not being able to open your mouth all the way, clicking or popping noise of the jaw, incessant headaches, and achiness in the neck and shoulder area. The custom mouthguard is able to help by preventing your jaw from clenching and your teeth from grinding.
Custom mouthguards are also beneficial when it comes to sports. If you, or know someone, who plays a sport, you are aware of the many dental injuries associated with it. With sports-related dental injuries being one of the most common, athletes can really benefit from having a custom mouthguard made for them. Though sporting goods stores carry mouthguards, they will not offer the same protection as our mouthguards, as we do not believe in a one-size-fits-all product. When a product is custom made for you and your mouth, it will be able to deliver more protection, preventing accidents from happening or being worse than they could have been.
If you have any questions on how our doctors can help with the creation of your custom mouthguard, contact our office and we will be glad to help!
At South Shore Dental Care, we're committed to providing our patients with a wide array of dental services, high-quality cosmetic dentistry, and up to the minute dental technology. Our Massapequa dental office serves patients from Long Island, Merrick, Bellmore, and Wantagh. Call us today to schedule your appointment.