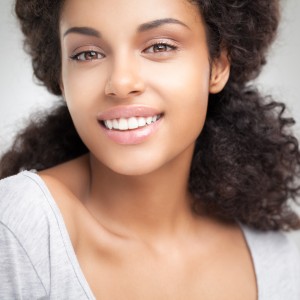 If you have gapped or misaligned teeth, you may find it difficult to be one hundred percent confident in your smile. Though many people may not think it is a big deal, having spaces between your teeth can really make someone insecure. You may have considered braces, but perhaps the image of having a mouth full of metal is not appealing. Luckily, you are able to straighten your smile seamlessly with the help of Invisalign.
Completely revolutionary, Invisalign gives you the opportunity to straighten your smile without the annoying and painful wires and brackets associated with traditional braces. Invisalign straightens your smile through a series of aligners, all custom made to fit your mouth and your mouth only. Each aligner signifies a phase in your straightening process. When you are finished with one phase, simply apply the next aligner in the series to continue to straightening process. At the end of the series of aligners, you are left with a beautifully straight smile you can be proud of!
One of the benefits of Invisalign is the fact it allows you to be discreet about your straightening process. Because they are barely noticeable, if at all, on your teeth, you are able to avoid the judgment you may have been worried about. Also, you are able to have better oral hygiene with Invisalign. When you need to eat, drink, floss, or brush, simply remove the retainer, and reapply it when you are done! If you are curious about how we can help you straighten your smile with Invisalign, contact our office and we will be more than happy to help!
At South Shore Dental Care, we're committed to providing our patients with a wide array of dental services, high-quality cosmetic dentistry, and up to the minute dental technology. Our Massapequa dental office serves patients from Long Island, Merrick, Bellmore, and Wantagh. Call us today to schedule your appointment.