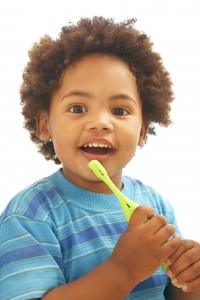 The wonderful thing about children is that they're carefree and easily made happy. Unfortunately, one of the things they can't be lighthearted about is taking care of their teeth. At our office, we realize the importance of your child's teeth, and we are ready and able to start your child off in the right direction. We understand that a dentist's office may not necessarily your child's favorite place in the world, which is why knowledgeable team is ready to welcome them with open arms and friendly smiles.
Children's dentistry is very important because it plays a crucial role in preventing dental problems before they arise, as well as sets up your child for success in the future. Common practices in children's dentistry are dental sealants. Because a child's tooth is more susceptible to cavities and decay, sealants grant protection by having a plastic covering painted in the grooves of the tooth to save from harm in the future. Sealants are primarily applied to the teeth toward the back of the mouth because the grooves are deeper than the other teeth, therefore more susceptible to deterioration.
Coinciding with sealants, fluoride treatments are also involved in children's dentistry frequently. Fluoride plays a crucial role in preventing decay as well as acting as an agent for attracting other minerals, like Calcium and Phosphate, to build strong teeth. Granted, fluoride does not prevent cavities from emerging, but it may delay their arrival, giving your child a better chance to have beautiful, healthy teeth and a glorious smile.
We recommend you bring your child for their first visit by their first birthday. That way, we can see how their teeth are progressing, and give us an idea of what kind of treatment they may need in the future. Beginning routine brushing and flossing habits early on is a sure way of having your child's smile be as stunning as possible, and our doctors as well as the rest of the team are here to make sure your child has an awesome experience.
At South Shore Dental Care, we're committed to providing our patients with a wide array of dental services, high-quality cosmetic dentistry, and up to the minute dental technology. Our Massapequa dental office serves patients from Long Island, Merrick, Bellmore, and Wantagh. Call us today to schedule your appointment.