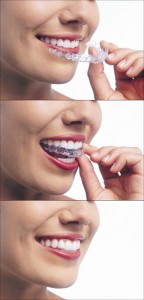 Last time, we talked about the variety of cosmetic dentistry procedures we offer here at South Shore Dental Care. Today we're going to talk about one of those options, Invisalign, in more detail. If you want straighter teeth without going through the hassle of metal braces, this could be a great option for you.
Invisalign is a clear braces smile solution that can straighten your smile without any metal or wires. This makes it a more comfortable alternative because there's nothing that will cause your mouth discomfort. The clear aligners are made from smooth plastic. You'll change them out every two weeks, and in most cases treatment takes about one year.
Since the aligners are removable, this makes it simple to keep your teeth clean and healthy during treatment. Also, there's no food restrictions with Invisalign. You also have the flexibility to remove your aligners for special occasions or pictures, but since they're clear, most people won't be able to tell you're even wearing them at all.
If this sounds like something you might be interested in, give our office a call. Dr. Khalida Stutman is a skilled orthodontist and can determine if Invisalign is the right solution for your smile. Everyone deserves a straight, beautiful smile, and Invisalign makes straightening your teeth even easier to fit into your life.
At South Shore Dental Care, we're committed to providing our patients with a wide array of dental services, high-quality cosmetic dentistry, and up to the minute dental technology. Our Massapequa dental office serves patients from Long Island, Merrick, Bellmore, and Wantagh. Call us today to schedule your appointment.