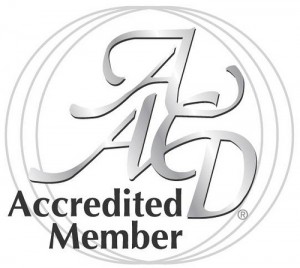 Our very own Dr. Dory Stutman recently reached Accredited status in the American Academy of Cosmetic Dentistry (AACD). This is a very prestigious award to recognize dental professionals that are committed to providing the highest quality cosmetic dentistry work possible.
The AACD is an organization for people dedicated to the art and science of cosmetic dentistry. Founded in December of 1984, the organization now has over 6,000 members from 70 countries around the world. Members include dental professionals, laboratory technicians, educators and researchers.
While there are a lot of members, only about 336 members are Accredited, making it a very prestigious title.
Accreditation is a lengthy process that starts with taking a written exam. Then, the dentist will have five years to complete the rest of the requirements. They'll attend two required workshops, submit clinical cases and perform an oral examination.
Dr. Dory Stutman has accomplished all of these requirements and will be formally recognized at the next AACD Scientific Session that will be held from April 24-27 in Seattle, Washington. This will also be printed in the Journal of Cosmetic Dentistry.
We're very proud of Dr. Dory Stutman and are very happy that his talents will be formally recognized. Congratulate him the next time you're in for an appointment!
At South Shore Dental Care, we're committed to providing our patients with a wide array of dental services, high-quality cosmetic dentistry, and up to the minute dental technology. Our Massapequa dental office serves patients from Long Island, Merrick, Bellmore, and Wantagh. Call us today to schedule your appointment.