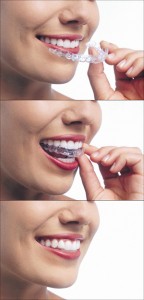 As an adult, it can sometimes feel like you've missed your chance to have a beautiful, straight smile – after all, you've got a professional image to worry about, and traditional metal braces can make it seem like you're stuck in junior high again. That's not even taking into account the amount of time they take to make a difference in your smile – years, in most cases. Here at South Shore Dental Care, we're committed to providing you with better, faster options concerning your dental care. That's why we're offering Invisalign at our Massapequa office, a more invisible, comfortable, and effective option for straightening your teeth.
Several benefits, one beautiful outcome
Created from detailed impressions of your teeth, Invisalign uses a series of clear, smooth plastic aligners to straighten teeth. One of the greatest benefits of using Invisalign is that you can easily remove it in order to eat, brush, and floss. No food is off-limits to you, and you'll be able to keep your teeth cleaner without having to work around pesky brackets and wires.
In addition, your Invisalign braces will fit you comfortably and nearly invisibly, allowing you to avoid the looks and passing judgments that can come with traditional metal braces. What if you want to be sure you won't have to explain them, though? If you have an important event coming up, like a graduation or wedding, no worries! Just leave your aligners out for a night, allowing you to enjoy all the fun to the fullest.
And best of all, our Massapequa dental team can have your treatment completed in an average of one year – half the time traditional braces usually take. What could be better?
Ring in the New Year with a great deal
If Invisalign seems like a surefire way to make your smile shine, you're in luck! Mention this ad on our website, and you'll receive a full $1,000 dollars off Invisalign here at South Shore Dental Care. In addition, we'll provide you with free bleach after your treatment – a value of $400, available to you at no cost.
Do you want to learn more about orthodontic treatment with Invisalign? Our doctors at South Shore Dental Care here in Massapequa are ready to answer your questions. Call our office today to schedule your consultation appointment. Dr. Dory Stutman and Dr. Khalida Stutman also serve patients from Long Island, Merrick, Bellmore, and Wantagh.