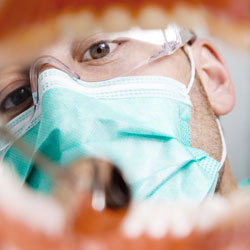 In a recent blog post, we briefly mentioned at the end that here at South Shore Dental Care, we offer something very few other practices can – two dentists of different focuses who can consult together on your diagnoses and procedures. Today, we'd like to elaborate a little on what this could mean for you and your smile. At our Massapequa, NY office, we understand that you certainly don't have the time to visit several dentists in order to assure you're getting the best care available. We want to help you feel comfortable with our services and completely informed about what we can offer you, without you even having to leave the comfort of your computer chair!
Twice the support, twice the skill
While our husband-wife team offers a variety of procedures, from family dentistry to restorative procedures to multiple sedation techniques, they both focus on specific areas of dental care, meaning that you get a double-helping of expertise whenever you come in for care. Dr. Dory Stutman can offer you five-star cosmetic care, while Dr. Khalida Stutman specializes in orthodontic treatment.
Although dentists are experienced and well-trained professionals, when it comes to tough or tricky cases, it can help to have another qualified opinion available to you. After all, two heads is better than one!  At South Shore Dental Care, you won't ever have to worry about needing a second opinion. It's already available right here in our office, with both doctors looking and consulting on your specific issues and needs.
In addition, by being able to combine orthodontics with other treatment, we'll able to offer you very conservative treatment. When having porcelain veneers fitted, you'll have minimal or even no preparation veneers, enamel shaping, or bonding. This can be a big help to patients, especially those who are concerned about drilling or sensitivity.
Here at South Shore Dental Care, we're committed to providing you with the most effective and informed service available. You'll be back to sharing your smile with the world in no time!  Call our office today to schedule your consultation appointment. In addition to Massapequa, we also serve patients from Long Island, Merrick, Bellmore, and Wantagh.