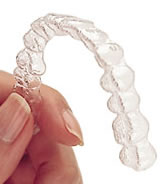 While traditional braces may be exactly what some patients need, they can be an obstacle for others who are worried about spending over a year behind metal brackets and wires. That's why South Shore Dental Care offers Invisalign clear braces. With Invisalign, patients from Massapequa and beyond can achieve a straighter, more dazzling smile in less time. What's more, treatment with Invisalign comes with three great benefits.
The Benefits of Invisalign Clear Braces
Three words can used to describe orthodontic treatment with Invisalign—removable, comfortable, and attractive.
Let's start with that last word—attractive—first. Because Invisalign uses clear aligners instead of metal brackets and wires, you can enjoy greater discretion than you can with traditional braces. Instead of drawing attention to your teeth, you can work towards your goal of a straighter smile without anyone but you and your doctor at South Shore Dental Care knowing about your treatment.
Because Invisalign uses custom-made aligners instead of brackets and wires, orthodontic treatment with Invisalign is also more comfortable. There's nothing to tighten, and because your aligners are made from smooth plastic, you don't have to worry about them irritating the inside of your mouth and gums, reducing any discomfort you might experience.
And lastly, but certainly not least, Invisalign's clear aligners are removable. That means you can take them about to eat, and to brush and floss. As a result, you never have to give up on your favorite foods, and you can also keep your teeth and gums cleaner than you can with traditional braces, which can easily trap food and contribute to problems with tooth decay and gum disease.
Do you want to learn more about orthodontic treatment with Invisalign? Our doctors at South Shore Dental Care are ready to answer your questions. Call our office today to schedule your consultation appointment. Dr. Dory Stutman and Dr. Khalida Stutman serve patients from Long Island, Merrick, Bellmore, and Wantagh.